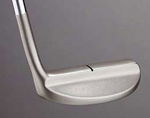 Classic looks of new
WS8862
The classic Wilson series of putters that included the Major-winning 8802 flanged design made famous by masters of the greens like Arnold Palmer and Ben Crenshaw, has been updated once again in the latest range, set for release in 2007.
Now under new Wilson Staff branding, new six-model WS8800 series includes traditional shapes, as well as modern designs using hi-tech materials.
"These putters blend classic designs with innovative materials and offer golfers a wide variety of choices in the search for a perfect putter," says Wilson Staff's Doug Wright. "Each putter looks good and will help golfers develop a fluid stroke and a more consistent roll. This will build new confidence and consistency."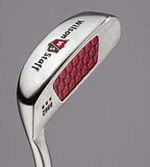 Insert face on the classic
WS8862




Among the classic shapes are the WS8862 (blade/heel hosel) incorporating an aluminum face with a milled pattern 'to give the ball a truer roll' and the WS8861 (heel toe head/offset hosel, with a soft anodized aluminum face insert for maximum feel. The top-selling WS8865 (oversized mallet, with a double bend hosel and parallel stripe alignment lines) retains it place in the series.

New putters are the WS8871 (heel toe, small mallet / back circle), the WS8873 (compact heel toe mallet / back circle) and the WS8875 (oversized mallet, parallel stripe lines). Each design has a soft TPU urethane face insert for greater feedback and micro groove faces to reduce skid roll and less skid. All feature have a gunmetal finish and Winn AVS wrap grips.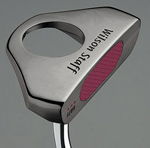 hole in the sole of the WS8871




The new WS8800 series will be available from January with a recommended price of £59.

*Tell us what putter you've got in your bag your bag - as well as the other clubs, balls and waterproofs. Submit auser review for the chance to win prizes every month.

Golfmagic has over 3,000 items of equipment reviewed within its system, many of which golfers use to consider their purchases. Most, too, can be bought from our shopping partners, which are listed on the left-hand side of every page.

And if you've got equipment to buy or sell second hand you can do that too, in our popularclassified section.