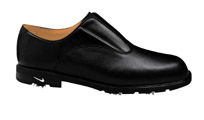 Nike's DuraComfort slip-on.




Tiger Woods is currently performing so well he must feel that he's almost walking on air. In fact he probably is, if the latest shoes from Nike are any guide.

The company is about to launch in the UK its Tiger Woods and DuraComfort Collections including The Dri-Fit Tour TW, The DuraComfort TW Slip-on and Split Wing and DuraComfort Tradition. Prices range from £80 to £135.

The DriFit Tour TW (£135) is the shoe currently being worn by Tiger on Tour and combines Nike Air technology and a graphite sock liner to cushion and support those expensive feet.

They have an Air-Sole unit in the heel and Zoom Air unit in the instep and toe. Nike says the flexible sock liner disperses your weight evenly and provides added arch support. Gore-Tex material enhances breathability and keeps moisture out. The shoes are fitted with low-profile ScorpionSpikes and are available in black only – from sizes 7.5 – 12.5.

The DuraComfort range features the TW Slip-on (£90), TW Split Wing (£90) and Tradition (£80).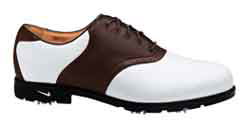 Nike's DuraSoft Tradition shoe.
Nike claims the collection 'boasts out-of-the-box comfort, soft, supple leather and inner padding in the upper'.
The slip-on is available in black only, the split wing in black or persimmon and the Tradition in black, amaretto/boulder, black/matador, white/black and white/boulder. All sizes from 6.5 to 12.5.
Nike is also launching its Gore-TEX Traditions and TW split wing range – ideal as a waterproof option prices at £110 – and the Gore-TEX Centre Seam TW shoe (£110).