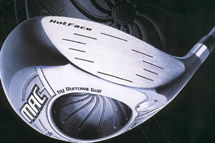 Futuristic MAC driver clubhead.
I always had an idea that a wall chart or a computer programme could be produced which could identify immediately the type of shaft that suited you, simply by feeding in basic information.
'Nah!…too many variables,' I was informed by the industry. 'You'll never beat trial and error.'
And so it is that whenever you try new clubs – especially drivers – you have to hit dozens, with different lofts, different flexes and kick-points until you find one that suits…until now.
Golf mad inventor Bruce Burrows who has already made his fortune designing water-coolers decided there must be a better way of making golf clubs, ones that fitted almost any individual. So he set about creating a quick-fit system that he launched this week.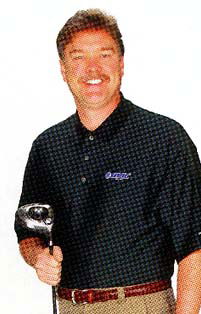 Bruce Burrows.
And while he was at it revealed his space-age clubhead – with its scooped out sole which claims to legally deliver extra velocity – and distance - to the golf ball by harnessing most of the vibration which previously travelled up the shaft.
MAC by Burrows Golf, which stands for 'magnitude amplification cavity', is based in Ockley, Surrey and the company could soon be as well known as Callaway, Hogan, TaylorMade and Titleist.
The system which drive this dual technology sounds complicated but it isn't – even for one like me who could never come to terms with the laws of physics at school, even though Sir Isaac Newton, who invented them, was born just 20 miles up the road in Grantham.
First let's look at the quick-fit shaft idea. Burrows found a way of combining the hard metals used to build war planes with the interlocking capability of a Ferrari gearbox.
The outcome is a Tour-size golf bag containing 17 different club heads – from 6.5 degree to 10.9 degree lofts, with square and draw faces – and 30 shafts with a variety of flexes and grips.
Using a unique wrench it's possible to inter-change shafts and heads to find one of 510 combinations bound to suit any given individual customer. And do it in seconds.
"We're making fitting easier and much more accurate," says Burrows who holds more than 50 worldwide patents connected to golf. "It brings golf professionals back into the fitting process and illustrates their special skills in providing golfers with correctly fitted clubs that will help improve their game."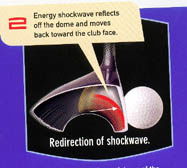 How shockwave re-directed off dome.
As for the MAC Powersphere system, which introduces a strange dome inside the metal wood clubhead, this transpired from Burrows – an enthusiastic 16 –handicapper – stinging his hands while hitting range balls in cold weather.
He wanted to find a way to harness the powerful shock wave transmitted at impact and deflect to the ball, as opposed to it vibrating up the shaft, where it was harmful to tendons and joints.
Using Newton's laws of physics, he discovered how to re-direct this wasted energy and amplify it across the clubface. As well as claiming more yards, Burrows says the 'hot face' is more forgiving because off-centre hits are still accurate.
As I found on the range at Wentworth playing into a gusty 20 mph wind, it was quick and easy to identify the right head and shaft combination to suit me using feel and sticky-backed paper slapped on the clubface. The balls left tell tale marks from impact which told the fitter which shaft should be screwed into which head to produce consistent results.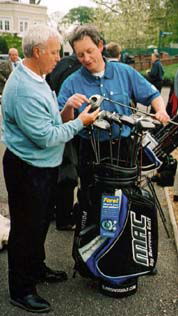 Bob discusses the driver with MAC's UK chief, Robert Lambie.
The sound was a dead give-away, too. Centre hits made a distinctive and satisfying 'Dong'. Music to my ears.
So what will be the cost of this Quick-fit scientific approach which should be available in the UK within three weeks?
Not as much as you would initially expect. Once you've identified your local dealer and been fitted, you'll pay £329 for a driver and have delivery within seven days. Fairway woods cost £179.
Driver prices compare favourably with the current recommended price of £449 for the TaylorMade XR-05, £380 for the Ping TiSi Titanium, £350 for Titleist 975L.FE, £349 for the Callaway GBB2, £329 for the Wilson Deep Red Powerfit and £275 for the King Cobra SS 430.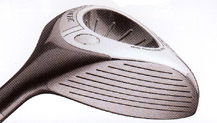 Gouged out profile.
First impressions from having hit about 25 balls on the range with the 10.5 degree MAC 421cc head (there's also a 350cc version and 13 to 23 degree metalwoods) on a slightly stiffer than regular 65 Gram HotFlex Graffaloy shaft, are that it produced a high launch angle with penetration kicking in at the top of the ball flight.
As normally a low-ball hitter I found this quite novel but certainly shot after shot cut through the wind with unerring consistency and, watching several others testers with a variety of oddballswings, their strikes looked to produce similar flights.
But, as we all know, there's no fear on the range and the acid test will come in competition play when my made to measure, quick-fit MAC arrives shortly for longer examination.