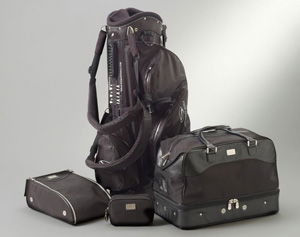 Stewart Golf collection
  Stewart Golf has extended its range of products beyond streamlined, remote controlled powered trolleys, to include a waterproof bag and, for women, a selection of matching accessories.
As well as the the lightweight stand bag (£159) the range includes a Boston bag (£89) a rain cover (£30) and shoe bag (£30). The stand bag features fully taped seams, a large double-padded back support, dual shoulder straps a variety of pockets for sunglasses, phone water bottle and valuables and umbrella holder and Velcro glove patch.
Stewart Golf MD, Mark Stewart, recently awarded 'Young Businessperson of The Year' in his local Gloucestershire community, said: "A survey of our customers revealed that they still play between two and three rounds of golf through the winter, regardless of the weather.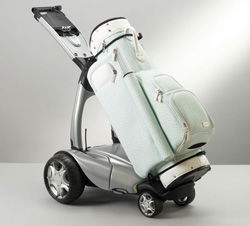 Stylish MODA golf bag with accessories




Many courses impose trolley bans, so a really lightweight, waterproof golf bag is essential."

The MODA by Stewart Golf product range for women golfers (£300) features a stylish cart bag, a small clip-on valuables bag that can be used with a shoulder strap and matching garment and sports bags (with shoe compartment).

Adds Stewart: "The Stewart Golf brand mainly caters for the wealthy male golfer, so we decided to create a new MODA sub-brand. So many products aimed at the women's market are simply men's designs with pink material instead of black, so we took inspiration from the fashion world rather than the golf industry, using more daring patterns and materials such as zebra print and ostrich leather."