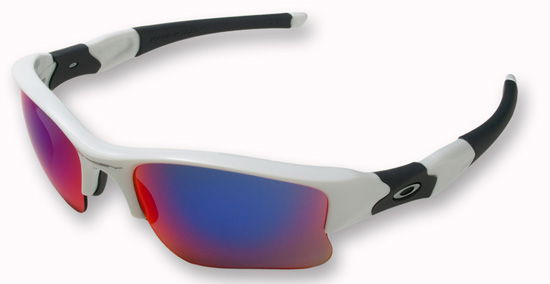 Ian Poulter's favoured Oakley Flak Jacket style with polished white/slate frames and red iridium lenses.
  With the recent heat wave we've been experiencing in the UK and Ireland and more great weather forecast sporadically for the summer and autumn, there's never a better time to be choosing some cool shades to wear on and off the course, while protecting your eyes from harmful rays.
Oakley, the No.1 sunglasses supplier on the European Tour has introduced its Oakley Custom programme - a step-by-step guide to building and designing eyewear to suit individual golfers, taking into consideration both practicality and vanity!
Whether you want to combine Oakley's highest specification frames and lenses for the ultimate protection and performance or simply design an enviable accessory, the level of creativity is left entirely in the hands of golfers, maybe looking to emulate the likes of Ian Poulter.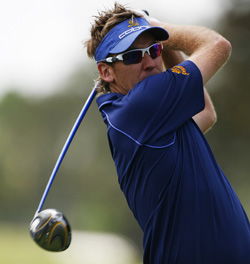 Shades of blue: Poulter in his Oakleys




Golfers may even wish to reproduce the vibrant white and red Flak Jacket shades worn by Poulter or, alternatively, opt for something decidedly more understated.

Whatever your preference, the primary aim of the Oakley Custom Programme is to encourage both professional and amateur athletes to express their own personal style by mixing and matching a wide selection of colours and lenses options, including personalised lens etching so no one can dispute these distinctive 'Oakleys' belong to you.

Many world-renowned golf pros sporting custom eyewear from Oakley on and off the course. Poulter's preference is to make use of his favourite Positive Red Iridium lens, while switching frame colours to match his ever changing choice of outfit.

"With the way technology has come along and the clarity of the lenses, I have 100% trust in what I'm seeing. I love wearing them especially with so many styles and colour combinations."

All Oakley custom eyewear is manufactured with high definition optics (HDO) and along with a comfortable three-point fit.

The Oakley custom programme features 28 styles of sunglasses frames as well two styles of goggles all with a multitude of frame colours and lenses.

All eyewear has a premium build cost of £10 over the standard style and all eyewear can be etched with a maximum of 15 characters at a cost of £15. National team colours are also available.

Visit www.oakley.co.uk/custom to see what colourful frame, lens and style combinations take your fancy.