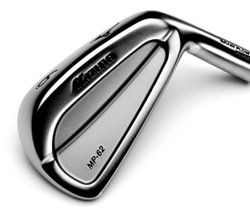 Mizuno MP-62 Black Nickel
There's nothing that gets Tour professionals more excited than knowing there's a new set of blades on the horizon. And the buzz on the European Tour in the last two weeks has been the appearance of Mizuno's new prototype MP-62 Black Nickel irons.
Black Nickel is softer than traditional chrome and offers an even softer feel at impact.
Having missed the cut at the BMW at Wentworth, South African Andrew McLardy spent the weekend practising with a set and on the Monday after the tournament it paid off when he qualified for the US Open with the Black Nickel irons in his bag at Walton Heath. And despite his recent victory in the Italian Open Daniel Vancsik was eager to put them in his bag, too.
The Mizuno MP-62 Black nickel irons have been developed using sound frequency analysis technology to maximise the feel and feedback and over the next couple of weeks Mizuno will be analysing comments from players keen to get their hands on one of the 500 sets available in Europe this month.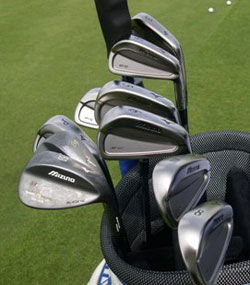 Mizuno MP-62 Black Nickel irons in Daniel Vancsik's bag




Andy Kikidas, Tour operations manager for Mizuno Europe says: "We tested the Black Nickel finish some years back with the MP-33 and our players loved it. It's still a plating but softer and with our forged heads gives an amazing feel.

"It's not as durable as traditional chrome - which is why we didn't introduce it originally, but lots of players seem more than happy to trade that for the feedback the clubs give them. We knew that there were sets being imported for huge money directly from Japan, so we thought we'd give golfers the opportunity to buy them in Europe - at a price that makes them a little more realistic."

Recommended retail price is £95 per club - £10 more than a traditional MP-62 chrome version.

What's in your bag?

For a chance to win one of the great prizes we're offering every month, tell us about the clubs in your bag. Submit a comprehensive review - from balls to drivers, golf gloves to sets of irons, shoes to powered trolleys - and give it a rating.

At the end of each month, we'll assess the entries and award prizes to worthy winners. To submit a review CLICK HERE