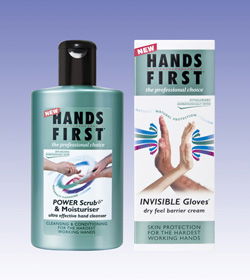 Latest products from Hands First
  The golf glove - we usually only need one depending on which hand we lay on the club handle first (usually left for a right-handed player, right for a left-hander) -is becoming increasingly expensive.
The price is now approaching £20 as technology improves and the fine cabretta leather used becomes more expensive to access and process. The days of a glove costing a fiver are long gone unless you go for inferior man-made quality.
But do we need a golf glove at all? Many golfers - Freddie Couples among them - get more feel without a glove - and others claim our grip on the club isn't impaired.
I'm one of those who uses a glove for every shot apart from putting but recently it has failed to protect my hands from painful skin chapping and soreness and from dirt and grit impregnating my fingers and thumbs during the rain, cold and heat golfers tend to endure.
However, I've discovered Hands First Barrier Dry Feel cream (£7.99) - designed to help protect, cleanse and condition hands - creating a protective shield. Applied before and after you venture on to the course, it creates an invisible pair of gloves, thanks to a completely dry and non-sticky formula, which claims to lock in moisture to leave hands feeling clean and hydrated, while still allowing skin to breathe.
Not totally convinced it can replace a golf glove - I still appreciate the extra grip a glove gives me - but the combination of the two and also using Hands First Power Scrub+ (£5.99) has certainly cut down the soreness I tend to suffer after constantly wiping mud from the ball and clubface after marking my ball on the green.
Both products are available online from www.handsfirst.co.uk, independent pharmacies and www.pharmacy2u.co.uk
Tell us on the forum: Do you use a golf glove on one or both hands? Have you found the cabretta leather-style is both good value and durable or have you opted for synthetic material?