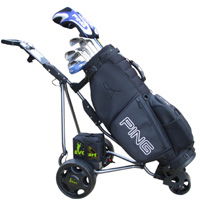 Evo Cart's smart Evo1-MC trolley
Electric-powered trolleys are the fastest-growing sector of the golf market with what seems like dozens of companies trying to muscle the established brands of PowaKaddy and HillBilly off the fairway and into the rough.
I recently teamed up with a guy and his son surging around the course with an unfamiliar, and ultimately X-rated, three-wheeled model he told me proudly was made in the Republic of China and which he'd picked up, brand new, for little more than £100.
Like the TV character Victor Meldrew, I couldn't believe it! It looked and sounded efficient, if a little unstable on steep inclines, but completed its allotted 18 holes without a hitch and appeared extremely good value.
I saw him a couple of weeks later, pulling a hand trolley and asked the whereabouts of his Chinese power pack.
"Broke down, couldn't get the parts, no service warranty, chucked it away!" he grumbled.
The story merely underlines that you get what you pay for and that isn't to undermine the competitive nature of the golf trolley industry, where perfectly sound and adequate models are challenging the top, hi-tech and remote controlled brands.
Latest company to make its pitch to the golf market is EvoCart, introducing two new models which it plans to sell exclusively online and backed by what it claims to be 'superior service and support' - a vital cog in the electric trolley business.
The Golf Trolley Company Limited (TGTCL) was founded a year ago by Tom Armitage, a PGA professional, and Rod Saxton, a director of an established express delivery company. They have spent 12 months developing the EvoCart range which they say is great value and high quality.
The Evo1-MC trolley (£215 including delivery) is a lightweight, compact folding frame trolley with a 'whisper quiet' 150-watt motor and standard battery capable of 36 holes without re-charging.
It comes complete with carry case to keep your car boot dirt-free, a removable scorecard holder and counter, pencil and ball holders and tee locators. It's also backed with a 12-month trolley, battery and charger warranty.
The Evo2-RC, meanwhile, is a hands-free remote controlled version, featuring a pocket-sized, 50 metre range device which manoeuvres the trolley forward and backwards, left and right, faster and slower, using two independent 120 watt motors and an 'anti-bias function' keeping the trolley in a straight line.
It's covered by a similar warranty and the £350 price tag also includ free delivery within the UK.
The company also offers an Evo replacement battery (£40) and a cart charger (£15).
For further details call 0870 777 8530 or visit www.evocart.co.uk