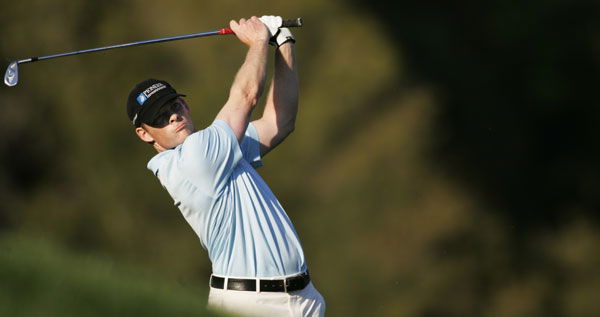 James Driscoll - former caddie at Brookline
On the face of it, today's 12.03 tee time of James Driscoll, Gaganjeet Bhullar, Rhys Davis won't raise many eyebrows, other than it being a few minutes ahead of those old Open war horses Sandy Lyle (12.15) and Sir Nick Faldo (12.25).
But I'll be watching intently because it brought a wry smile to my face. The group includes two of my former colleagues when I started caddying in the mid-1990s for the members during balmy summers at 'The' Brookline Country Club in Boston - James Driscoll and Mark Mazo, who's carrying the bag of Welshman Davies.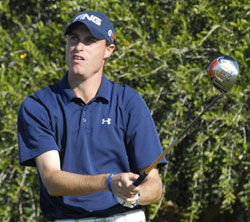 Rhys Davies - has Mark Mazo on his bag




James and I 'looped' together over the famed Brookline track 10 minutes from downtown Boston, home of our beloved Red Sox baseball team and which has hosted three US Opens, the first of which was won in 1913 by America's first golfing hero, Francis Quimet.

In 1988 Curtis Strange won there, defeating Sir Nick Faldo in an 18-hole play-off and in 1999 it staged one of the most exciting Ryder Cups on record.

If I had a dollar for every time I placed my wallet on that controversial 17th green for members and their guests to try to emulate Justin Leonard's Cup-clinching putt twenty - five paces on and four from the right, top tier – I would be happy in Guinness for several months!

I have followed James's career ever since - from his beginnings as a University of Virginia All Star amateur to the present day top-earner on Tour.

I even drove the eight hours (well, we were stuck on the George Washington bridge just outside just outside New York for four of them!) to Baltusrol in New Jersey to watch him lose narrowly to Jeff Quinney in the 2000 US Amateur matchplay final.

In more recent times he has moved between the US PGA and Nationwide Tours but a second place at the Texas Open catapulted him up the rankings to claim his place in The Open.

Mark, meanwhile, has been one of my closest ex-caddying and drinking buddies since we both set foot on Brookline's immaculate golfing turf together in the mid-1990s and has been on Rhys Davis's bag during his recent rise through the pro ranks.

A Harvard graduate in Economics, Mark has spent the last five years on the golf Tours worldwide but despite umpteen top ten finishes, has yet to claim a percentage of a winner's cheque.

If it were to happen this week I can be guaranteed the biggest party in London - ever!

To be honest, with it being Mark's first major on a bag, he will happily settle for a walk up the 18th on Sunday to packed grandstands. But he'll have a wry smile remembering those summers caddying for Brookline's equivalent of 'Mr & Mrs Havercamp' - those two choppers out of Caddyshack - when we spent much of our time kicking balls out of trees and clock watching to make sure we made the first pitch at Fenway when the Sox were at home.

Happy, happy days...good luck, guys!

*Michael Smyth, 4-handicap golfer from Londonderry is Golfmagic.com's commercial manager.