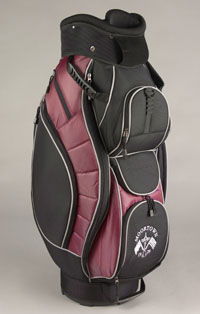 Distinctive cart bag from YOB Golf on which you can embroider your own logo
An innovative business idea pioneered by a Yorkshire-based company is rapidly winning a loyal group of on-course shops run by PGA professionals.
Your Own Brand (YOB) Golf provides clubs with their own personalised range of branded goods, which are 'high quality and low-cost.'
Yob Golf was launched in 2005, with a vision to supply a range of soft goods to golf clubs that were branded only with their most valuable and unique asset - the club crest. It's a particularly useful addition to have when societies visit your course, looking for prizes relevant to the venue.
It also means total exclusivity for clubs, confirming that the equipment – including bags, umbrellas and holdalls - cannot be purchased at any other retail outlet and therefore immune from price discounting.
A pilot launch met with an outstanding response and at least 50 customers supported the idea, including Moortown, Lindrick and Southport & Ainsdale Golf Clubs.
Says John Eyre, PGA professional at Crossland Heath Golf Club: "My own brand has created new interest in the pro shop and generated a number of new sales."
Added Lewis Horsman at Sheffield's Hillsborough Golf Club: "I have been very impressed by the YOB Golf concept. Without doubt, personalised golf products are becoming more saleable and profitable than uncrested ones."
The company's 2007 range includes high specification cart, stand and pencil bags in a range of solid and pastel colours with respective recommended retail prices of £90, £80 and £35. The golf bags come with a detachable panel that can embroidered with the club crest.
Other items include personalised travel covers (£60), holdalls (£30), umbrellas (£25) ,shoe bags (£12) and suit covers (£40).
For further information initially contact YOB Golf on 0845 962 4653.