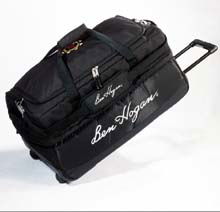 Duffel with wheels.
A new range of golf luggage has been introduced for the Ben Hogan brand – including grip bags on wheels, a travel cover and distinctive head-covers.
Features of the Duffel bag on wheels include a durable, padded bag with two compartments and heavy-duty zippers, adjustable shoulder strap and telescopic handle. The easy-rolling skate wheels and skid plates are ideal for easy transfers in and around airport terminals. The cost is £70.
Ben Hogan also offers a duffel bag (£40) with a U-shaped opening for the main compartment and an air-ventilated shoe area, plus easy to hold padded handles and a shoulder strap.
The Ben Hogan 'Staff Travel Cover' (£80) has wheels and is equipped to hold up to a 9" staff bag. It features a rigid bottom with easy rolling skate wheels, shoe compartment and sponge-padded cover to protect clubheads.
Other Ben Hogan accessories include a shoe bag (£15), a 68-inch diameter, robust Tour umbrella (£19.99) and red/blue or silver/black head covers, big enough to fit drivers up to 400cc and with zip-up sides. Cost is £19.99 for a set of three.