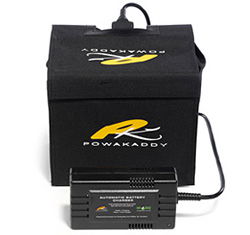 PowaKaddy is responding positively to new legislation for battery disposal
  From February 1, 2010 new battery recycling regulations come into force in the UK demanding that battering retailers - including pro shops, high street golf stores, service agents and manufacturers - selling more than four lead acid batteries a year (a total of 32kg) provide a battery 'take-back service' for consumers.
Market leaders in powered trollies, PowaKaddy, has announced that it will help pros, retailers and service centres meet the new battery recycling regulations while supporting a greener environment through recycling batteries for powered trolleys.
PowaKaddy Group is offering a free battery collection service from these outlets where they will collect at least 30 batteries - not just those for PowaKaddy and Hill Billy - per visit and provide participants with literature, window-stickers to keep customers up-to-date with the legislation. The company will also provide a record of the batteries collected to meet the new regulations.
"As a business it is important for us to recognise the impact that we have on the environment. With these new regulations coming into force it's right for us to be pro-active and support our retail partners and service centres," commented Terry Hale, chief executive of PowaKaddy Group.
For further information about your nearest re-cycling centre call 01795 473555 or visit www.powakaddy.co.uk.