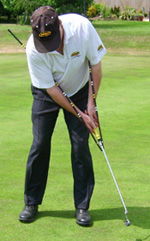 Using V-Easy for putting and chipping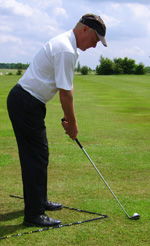 Using the V-Easy for alignment




    A new three-in-one putting and alignment aid has been introduced to the successful stock of Yes!Golf practice aids.

The creation of PGA pro Bob McArthur, the V-Easy aid (RRP £19.99) first caught the attention of Yes!Golf teaching technicians for its effectiveness on the practice putting green, specifically for 'quieting' the wrists. During the putting stroke if wrists are too loose it can adversely effect the dynamics out of the stroke but the V-Easy holds the wrists in position making it easier to improve distance control and accuracy.

  Similarly, says McArthur, control of the wrists and the upper-body pendulum movement, is vital for chipping on slopes or from poor lies. By placing the arms of the V-Easy under the arms it forms a natural support for the club shaft and the delicate tension created at address communicates the feel of the ideal stroke to the wrists and upper body.

The V-Easy can also be used as an aiming and alignment aid with the feet placed inside the 'V' and, using the markings, parallel to the target line.

The fold-away V-Easy is suitable for golfers of all ages, height and size and needs no adjustment for left or right handed golfers.

Another Yes!Golf-distributed product is the PathFinder putting aid from Esoteric Golf Technology, which helped Simon Dyson win the recent Alfred Dunhill Links Championship.

For more details visit www.yesgolf.co.uk .