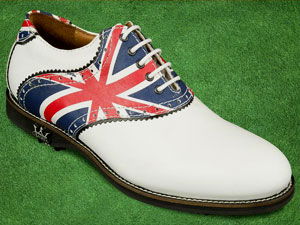 Lambda Union Jack shoe
  Lambda, a newcomer to the golf shoe market (at least to me), has aimed its latest model at patriotic golfers keen to promote their country of origin when playing - as if we might not know where they're from without checking out their shoes!
The new Imperia golf shoe features the Union Flag as the customary saddle but is also available in five other flag versions including Swedish, Danish and the US stars and stripes.
Lambda's classic-looking golf shoes are functional and reliable, fully water-repellant and manufactured in Portugal using locally-produced leather.
Prices for the Lambda golf shoe range start at 119 Euro with the special 'flag' shoes 144 Euro.
For further information visit www.lambda-golf.com.