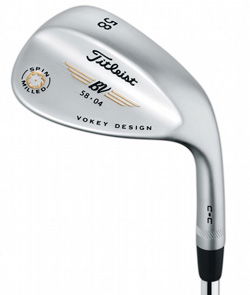 Latest Titleist Vokey Spin-Milled C-C wedge made to meet new groove regulations
    While the latest USGA/R&A regulations affecting grooves, which come into force for Tour players on January 1, have caused some consternation and anxiety among the world's best golfers, Titleist along with other manufacturers, has responded by creating a range of wedges which conform to the new rules.
Master craftsman Bob Vokey is introducing the Vokey Design Spin Milled C-C (Condition of Competition) wedges, aiming to provide optimum performance and shot control within new guidelines, which are not applicable to regular amateur club golfers until 2024.
Titleist will produce and sell the new Vokey Design Spin Milled C-C wedges (£97) while continuing to offer its comprehensive line of 2008 bigger-grooved Vokey Design Spin Milled wedges until December 2010.
While the differences in launch, spin and run-out depend on a player's technique, the type of shot demanded and the lie, Titleist says the new Vokey C-C wedges will, in general, produce higher launch, less spin and more run-out than previous Spin Milled grooves.
The range features 17 models (nine will also be available in left-hand versions), nine lofts (from 48 to 64 degrees) with various bounce and grind options and in a non-glare Tour Chrome finish.
"The new groove standards will put more pressure on better players' short games," says Vokey "and it will be crucial for them to determine the most effective combinations of loft, bounce and sole grinds in their wedge set-ups. There is a lot less room for error when players don't have as much spin as they are accustomed to, so they must be much more precise in their execution.
"Having worked with Tour players, club pros and better amateurs in developing these new C-C wedges, I believe we have covered the spectrum in providing the most effective combinations for players who are required to use the new grooves or who choose to play them," he says.
WHAT'S IN YOUR BAG?
SUBMIT a golf equipment review into the Golfmagic.com system during September and you'll have the chance to win one of THREE copies of the official film of the dramatic 2009 Open Championship at Turnberry.
It will be your chance to re-live exclusively one of the most thrilling final rounds of any tournament in golf's long, rich history when the legendary Tom Watson took on the might of the European and US PGA Tours and almost caused the greatest upset in living memory.
For a chance to win tell us what's in your bag or what clubs you've tested on a demo day. As well as telling us about the product's strengths and weaknesses, give us a detail impression of how it worked for you and also give it a 3 x 5-star rating.
We'll judge the most appealing - whether singular reviews or multiple reviews - at the end of the month and give DVDs of the 2009 Open to the most deserving.
To enter CLICK HERE.