It was some 12 years ago when I first came across the 7-wood. My local pro stocked a handful of cheap, persimmon-headed versions for about £20 and it suddenly became the favourite club in my bag.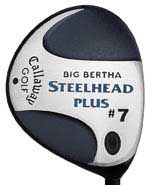 Steelhead Plus 7-wood.
Never able to get the best out of 3 or 4-iron which were dead weight in my golf bag, along with a driver which only served to sport a handsome yellow pom-pom head-cover, I discovered the 7-wood was so versatile.
My opinion hasn't changed and now, it seems, the infant, high-lofted club has grown up to become a vital asset of major championship winners.
Even David Duval, Justin Leonard and Vijay Singh, are replacing long irons in their bags with 7-woods. For Sam Torrance it has been a favourite ever since he discovered advancing years could no longer rip an iron from a tangled lie 200 yards from the green.
It used to be a club associated only with women professionals, like Annika Sorenstam and Liselotte Neumann, who introduced it to big time golf. But no longer.
The 7-wood – still referred to fondly by commentator Peter Alliss as 'ah…the gentleman's persuader' – has earned its place in top players' bags because of its versatility, particularly from the rough.
Unable to lengthen courses to counter the emergence of 'hot-faced' drivers, designers and tournament organisers have taken to narrowing fairways and toughening the rough.
That means players have to find alternative means of finding the short grass and putting surfaces with their approaches.
Three-, four- and even five-irons don't tend to do the job as effectively as they used to, the lush growth tending to wrap itself around the clubface at impact, producing an ugly smother – or worse.
The 7-wood head, however, with its 22-25 degree loft and smooth or railed sole, tends to part the grass like Moses did the Red Sea and send the ball on a towering, soft-landing trajectory.
It also has its uses around the green.
High-collared fringes have become a feature of manicured course but don't allow the golfer to lay the putter behind the ball as they used to.
And with the shot with the leading edge of the sand-iron - the belly-wedge shot – needing much practice to perfect, the 7-wood provides an excellent alternative.
Grip the handle like a putter, lay the sole behind the ball and let the deep face do the rest. Even from fringe rough, there's enough loft to carry the ball on to the putting surface and roll out towards the hole.
From the fairway, with, say 180 yards to the centre of the green, there's no better feeling than sweeping a 7-wood with the minimum of fuss towards its target.
My Callaway Big Bertha Steelhead Plus 7-wood did just that yesterday and I'll tell you, the sense of pride and achievement in hitting a golf shot like that to within a few feet was very satisfying.
Since its emergence, no self-respecting manufacturer has failed to include the 7-wood in its range of fairway or utility woods.
Among the versions are Mizuno's T-Zoid Forged C-Face (£149), Ping i3 Steel (£215), Callaway's Big Bertha Steelhead Plus (£239) or HawkEye VFT (£379), Titleist Pro Trajectory 975 (£200), TaylorMade 300 Series (£349), Wilson Fat Shaft Deep Red (£179) or Adams Tight Lies ST (£179).
Most amateur golfers considered it less then macho to carry one of these clubs in their bag – it was perceived as a little feminine to be seen with such equipment.
Now the humble 7-wood has come of age, put hairs on its chest and proved its virility.
Do you have a 7-wood? Give us an honest review on the Forum - is it worth it's weight in gold or a waste of money?