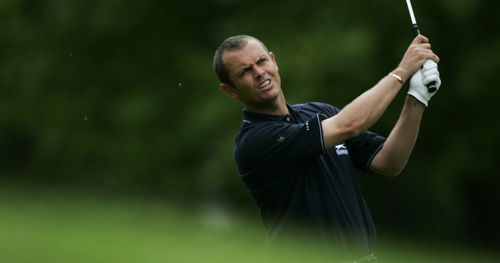 Andrew Coltart - fallen hero
As vanquished England football manager, Steve McClaren can testify, it takes a brave man to walk in front of the press at the lowest point of his professional career. So hats off to Andrew Coltart.
The Scotsman's failure at this week's 2007 European Tour Qualifying School might not have had the global ramifications of the sacking of McClaren, but they both faced the media music and the personal disappointments of the two men are certainly on a par.
Coltart, Ryder Cup player at Brookline in 1999, was the most recognisable player at Europe's 2007 Q School, but he failed to make even the four round cut of the gruelling six-round event and now finds himself in golf's twilight zone without any credible ranking or playing category for the 2008 season.
His fourth round at San Roque in Southern Spain left him nine over par and 138th in a 156-man field. He was still in a state of shock when we spoke
"I haven't played well for a while and it continued this week. It's not enjoyable. There was no one department [of my game], it was just pretty poor in general. I didn't play well particularly in the second round [five over par 77] and that gave me a lot to do. I couldn't get anything going."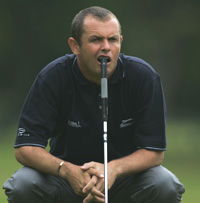 Coltart -uncertain future




The future of former stars missing out at Q School is often unclear at first. As a two-time Tour champion and member of the powerful International Sports Management player agency led by Andrew 'Chubby' Chandler, Coltart will get sponsor invites to more than a dozen tournaments but the damage is as much to his professional pride as it is to his career.

Coltart, brother-in-law of Lee Westwood, had entered Q School with no thought of not being one of the 30 players to retain their Cards. He was a captain's pick in the 1999 European Ryder Cup team led by Mark James against Ben Crenshaw's US stars, even if his only action was a losing singles match against Tiger Woods.

His record since first qualifying for the Tour in 1992 has been impressive. The former Scottish Amateur Boys and Strokeplay champion won the Qatar Masters in 1998 and the Great North Open at Slaley Hall in 2001. He also claimed the Australia PGA in 1997 having claimed the coveted Dunhill Cup for Scotland at St Andrews, alongside Sam Torrance and Colin Montgomerie, in 1995, beating Zimbabwe in the final.

His thoughts remained positive as the Q School loomed.

"I never envisaged missing out on my Card." mused Coltart. "I thought it was a good tactic, but it backfired.

"What now? I have no idea, some invitations, I suppose. I'll have a wee think about it in a week or so when my head has cleared a bit."

The man from Dumfries was also unlucky on another front. His 15 consecutive seasons on Tour had led to a high ranking over the years in the 'career earnings money list' where the top 40 have full exemption status. Unfortunately, Coltart has slipped to 41st in the final weeks of this season, as Justin Rose finished 2007 with a flourish.

"I was aware of the career earnings list only with about three tournaments to play. I was trying to get out there and play well in each tournament; trying each week to see if I could've taken care of business that way," he said.

Coltart's only solace is that, every year, players of his calibre are not alone in missing out on a belated chance to earn guaranteed employment on Tour. Regulars like Gary Emerson, Andrew Raitt, David Park, Andrew Oldcorn, David Carter, Euan Little, Joakim Haeggman and Andrew Marshall and left-hander Stuart Little, all failed at some stage of Qualifying School in recent weeks.

This was 37-year-old Coltart's first visit to the School since 1993, but despite so much young talent bursting through from all over the world, it's unlikely to be his last.