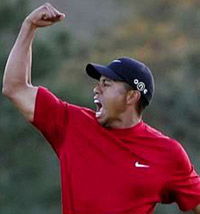 Tiger clincher at Augusta
What's the highlight of your 2005 year? A few shots off your handicap, a hole in one, a club championship or merely just the chance to play with friends on a regular basis?
There's far more to golf than just the majors and the regular Tour events on TV with Tour professionals paid obscene amounts while others earn a meagre living serving in the pro shop or giving lessons on a freezing driving range.
And I'm sure our own personal experiences are worth far more than money can buy.
As a little reminder to those who follow the Golfmagic during the year and to those new to its valuable archives, here's a nostalgic taste of 2005 in an A to Z format.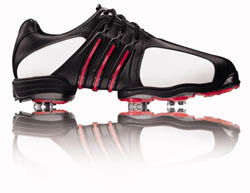 adidas Tour 360
A - adidas has been at the forefront of golf shoe technology this year with the introduction of its Tour 360 worn by stars like by Sergio Garcia, Justin Rose and Ian Poulter.
And in its bid to knock FootJoy off its long-established perch, as the No.1 shoe in golf, adidas has elevated the shoe's importance, advising potential customers that it should now be regarded as not just footwear, but a vital part of their equipment.
B – Benross Golf – has established itself as not just a range of products at the 'affordable' end of golf equipment but a brand of good quality, too, as we found with the introduction of its Ripple SR putter.
It looked like a raspberry ripple lollipop but we found its performance belied its comic status and recommended it. More is expected from Benross in 2006.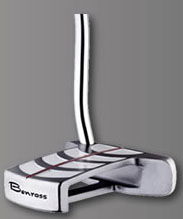 Benross Ripple SR putter
C – A competition to win a set of Cleveland CG4 irons during the summer attracted an entry of over 3,600 Golfmagic members and delighted the Harrogate-based company.
Former publican George Austin from Rotherham was our lucky winner and had a great day out with Golfmagic and Cleveland at Hollinwell, where he was fitted for his new irons.
D – We revealed in August 10 things you should know about drivers, from what loft and shaft to choose to how much you should pay.
It's a club that many believe is over-hyped but from your comments we know that it's the club in your bag that most reflects your personality and your ability as a golfer.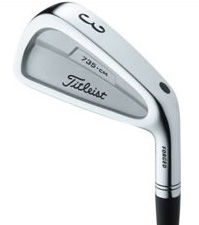 Forged Titleist 353 launched in Munich
E -Eldrick Tiger Woods will be a pensioner in 2039 – the same age as Jack Nicklaus, when he accepted the admiration of his fans around the world at this year's Open Championship at St Andrews.
We had a bit of fun when, in July, we fast-forwarded golf 25 years, to imagine what the game would be like and who and what would be remembered.
F - Forged irons, including the new 735 CMs from Titleist, were revealed at the Golf Europe Show in Munich. It's a process that is more expensive but as Mizuno in particular, has discovered, creates great feel in the clubhead for 'better players'.
Mizuno's new forged MP-60 irons have caused quite a stir and attracted much discussion and anticipation before their emergence in November.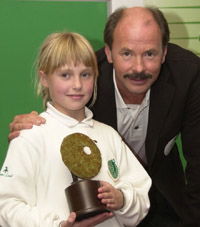 Charley Hull with ex-Olympic swimmer David Wilkie
G – There was a mixed reception from Golfmagic members for the London Golf Show during April in Docklands where there was a chance to test hundreds of new products but few from the major manufacturers. The show goes ahead again from April 27-30, 2006.
Also we carried an exclusive interview with the unusually talkative Retief Goosen, in which he revealed how he kissed goodbye to his US Open crown.
H – has to be dedicated to nine year-old Charley Hull from Kettering who shocked the golfing world by winning the women's Health Perception title at Turnberry. She beat a strong field of women golfers – some of them old enough to be here grannie – in a play-off.
Hippo also revealed its ITX2 6-iron was tested by a leading magazine and found to be the longest when matched against most of the leading brands – with an average of 169.2 yards.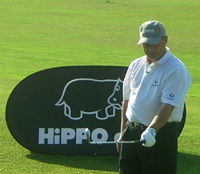 Woosie's exclusive clinic
I - Ian Woosnam, the Ryder Cup captain, faced questions put to him by Golfmagic members and also gave us some innovative tips on the basics of improving your game.
J - Jack Nicklaus, who made his last Open appearance at St Andrews in July, graciously gave up his time to answer questions submitted by Golfmagic members, most of whom were grateful just to make personal contact with the legend. Our feature also attracted applause for the site from the Golf Foundation.
Justin Rose also gave up his valuable time to answer questions and pass on some tips.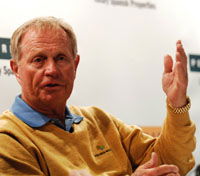 Nicklaus answers your questions
K - One of the best putters we tested during the year was the KC4 from Wilson Staff. Used by Padraig Harrington during the year, it's one of the first you can custom-fit yourself to your own specification to meet differing green conditions
L – Sadly we had to report the demise of the grand old Scottish club-makers John Letters, originally founded 118 years ago and which had to call in the Receivers, the week before The Open at St Andrews.
The company has now been acquired by Direct Golf UK.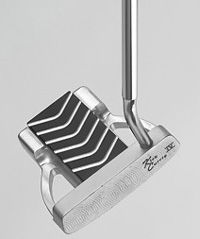 Wilson Staff KC4 putter
M – Though a cloud still hangs over Colin Montgomerie's eight Volvo Order of merit title – apparently Darren Clarke is still fuming over the Scot's admitted rules transgression in the Indonesian Open – you have to admire his tenacity in reclaiming his European No.1 spot.
In the face of off-the-course traumas with the break up of his marriage, and a major swing adjustment, Monty turned the corner in great style travelling around the globe to regain his position in the world's top 50 and almost pulled off the win of the decade in the Open at St Andrews.
N – Noodle Ice golf balls are set to play a key role in attracting new golfers into the sport – especially kids – according to their makers Maxfli. Available in lime green, raspberry (pink), sky blue and tangerine, the balls have a translucent dimpled cover, which adds to their find-ability along with their long and soft performance.
Maxfli also brought out the BlackMAX and SpeedMAX balls during the year.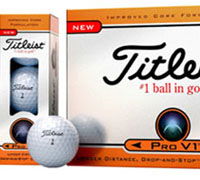 Updated Pro V1 balls
O – St Neots golfer Eugene O'Sullivan won the inaugural TaylorMade/Golfmagic series in October and was then invited to The De Vere Belfry to be fitted for a new r5 Dual driver on the exclusive MATT custom-fit computer.
P - The new Titleist ProVi ball proved a smash hit during the year making it the most popular ball both with Tour pros and club golfers.
Ping also introduced its first hybrid club in the burgeoning rescue sector. Better late than never. Its G5 hybrid was only one of several in the updated G5 range which include driver, fairway metal and irons.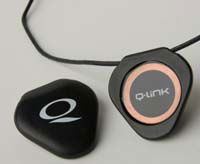 Q Link award for innovation
Q – Q-Link, the pendant that claims to enhance performance while reducing stress on the golf course, was named 'Best New Product' at the 2005 PGA exhibition in Las Vegas.
Mark Calcavecchia, Fred Funk, Kenneth Ferrie, Birdie Kim and Weetabix British Women's Open winner Jeong Jang, are among the golfers who claim the pendant has helped them to victory in 2005.
R –At the end of 2004 the TaylorMade Mid rescue club was voted by Golfmagic members as the best innovation in their bag over the previous 12 months. High time then, during 2005 for Callaway, Titleist and Ping to join 'em with their own versions.
For an expert opinion on this new phenomenon we asked TaylorMade's Retief Goosen for his key thoughts on chipping with the Rescue Dual he uses on Tour.
The Rules of Golf also came in for discussion on the forum, while respected scribe Bill Elliott attempted to simplify and clarify them in his book 'Golf Bag Buddy.'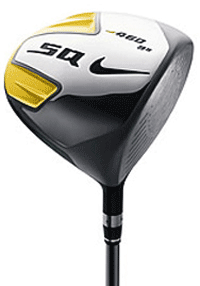 Nike Sasquatch driver
S – Look out for a Big Foot driver to hit a pro shop near you any time soon. The Nike Sasquatch driver is reputedly in the bag of some of the world's longest hitters, including England's Paul Casey and with its yellow sole will be much in demand next spring.
T – Tiger Woods claimed both the US Masters and The Open Championship in some style in April and July, re-establishing himself as the world No.1.
We identified the turning points of his two majors at Augusta National with a crucial chip-in at 16 and at St Andrews where Tiger decided to imprint his authority.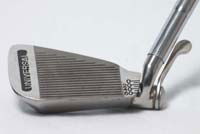 A 'novel' 14 clubs in one
U - In a thrilling climax the US Open, the title came home to Britain at last. Well not exactly, but the new champ, Michael Campbell, lives with his family in Brighton and I was able to recall the moment when the Kiwi decided his destiny was to be found in golf, not rugby.
During the year we also announced a comeback for an unusual club The Universal.
V – For a few short weeks Vijay Singh, the tall Fijian with the languid swing sneaked past tiger to be World No.1. Many felt it was his consistency that eventually earn him the exalted position but chiefly it was down to his putting with the Never Compromise putters he endorses. Among them are the SC-1 models we reviewed.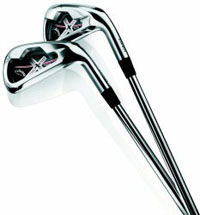 Callaway's X-Tour irons
W –This A to Z of 2005 would not be complete without Michelle Wie – the Hawaiian phenomenon who turned pro on her 16th birthday. She's the best thing that has happened to the game since Tiger turned pro and deserves our support wherever she can appear as an ambassador for a new generation of golfer. She's also a standard bearer for women's golf in the battle against male chauvinism.
It would also be folly to ignore the growing influence of waterproofs in our game at club level. Both ProQuip and Stuburt brought out attractive new ranges this year.
X – X-Tour irons from Callaway were the X-factor in Annika Sorenstam confirming her position as the greatest woman golfer ever, Phil Mickelson as no 'one major wonder' (he won the US PGA in great style at Baltusrol) and Nick Dougherty as a great British hope for the future.
The two-piece forged clubs have 'notch-weighting' and a face-plate made of carbon steel, for penetration and feel.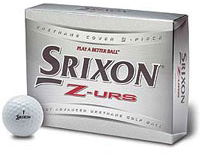 Srixon Z-URS balls
Y - All season, controversy has surrounded obtaining our own yardages using new technology, just as professional caddies have for the pros, using hand-held range-finders instead of the cumbersome pedometers.
And while satellite navigation on buggies has been accepted for some time, it took the emergence of cheaper hand-held devices like theclip-on Caddy to get the R&A to change the rules. Even that has caused much disquiet on the Golfmagic forum
Z – Srixon has been working hard to dent the monopoly of Titleist, Callaway and Maxfli with the introduction of its Z-UR and Z-URS balls used by Miguel Angel Jimenez and South African Tim Clark.
Tell us your highlights of 2005 on the forum – not only personal and in the new equipment introduced but also in the professional game.