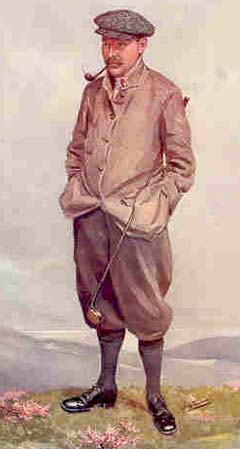 Archetypal club captain
During my 30-odd years as a golf club member I have 'served' under dozens of club captains, most of whom, in recent years, have possessed most of the qualities the position demands.
A handful, however, failed to grasp that their duty need not always have had to extend to out-staying the bar staff with a glass of claret still half full. Neither should it require a litany of lewd jokes when entertaining visiting teams, or long-winded stories lacking a punchline.
I once commissioned a jobbing author to write me a series about a fictitious golf club which included all the archetypal officials and staff and he portayed the club captain as a tweed-suited buffoon with his own favourite bar stool, from which he could regularly tweek the nether regions of the club secretary's assistant as she passed by.
It was a fictitious caricature though at the time many readers agreed it had a strong ring of truth about it.
Fortunately much has changed in the modern golf club and today the club captain tends to be a professional businessman or freshly retired with time to devote to regular internal club meetings, entertaining visiting teams and hosting the social functions that are the heartbeat of a local club.
As well as organisational skills and the ability to make brief, ideally humorous, speeches with few notes, he has to possess diplomacy, patience and integrity in the face of a regular volley of complaints and whinges from members who think they know the way a club should be run. Sound familiar?.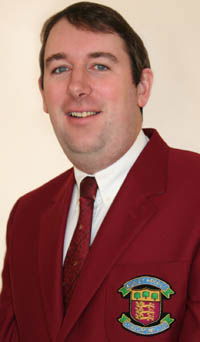 Steve Sanger – youngest captain at 32?
One of the youngest captains I have known of in the past four decades is 32-year-old Steve Sanger, a new Golfmagic member, who this year has taken over the reigns at Ashley Wood Golf Club, near Blandford in Dorset.
He's the youngest in the club's 109-year history – and the first to follow in the footsteps of his father – and may possibly be the youngest in the country (unless you know different!).
He says: "I have been playing golf for over 20 years and currently play off a handicap of two. I have been as low as scratch and was captain of the Dorset's 2nd team for two years.
"I've even played (and lost) a county foursomes match against an amateur David Howell and am currently Ashley Wood's club champion, having won it eight times in the last 10 years.
What's involved in becoming a club captain?
"I have served on the committee for over six years and had the opportunity of becoming 2006 captain when I was nominated as last year's vice-captain," Steve revealed. "As a members club, normally the nominated choice automatically gets the position, though it has been known for the nominated selection to be opposed and defeated in a vote at the annual meeting (AGM)."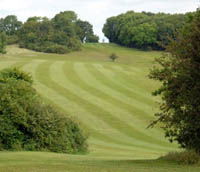 Ashley Wood GC
Though Steve works five days a week as regional operations manager for an advertising agency in Bournemouth, he says he has sufficient holiday entitlement to ensure he's able to attend all club functions as well as being available at the course every Saturday and Sunday through the summer.
"As captain of a members club, I'm responsible for the year's activities and hopefully ensure members enjoy the calendar of fixtures I arrange. The personal cost to the captain, of accepting the role is a bit of an unknown quantity but I do get help from the club along the way."
So is the position only for the elite?
"I wouldn't class it as elite but more of an honour," he says, "which, at a members club is achievable by those who aspire to it. But I can imagine that some members don't want the hassle or responsibility of such a role within a golf club.
It's more than a parking spot and free golf at other courses, then?
"It's true that you get a decent parking space and the chance to play other courses free of charge (as a courtesy during your year of office) but that shouldn't be the reason to do this job. I hope to serve the members in such a way that the club moves forward and has a reputation for creating a friendly atmosphere and promoting a golf course which is a fair but challenging test."
But the job must have its down sides?
"I have had some internal strife to deal with already but as long as I remain calm and make decisions with the best interests of the club in mind, I don't think the members can ask anymore."
Steve hopes the highlight of his year will be to stage the club's first ever pro-am – a South West Region PGA event on August 30. He will host 40 professionals and their teams from across the region and aims to have the Ashley Wood course in its best ever condition and to be a worthy venue.
Golfmagic.com wishes Steve and Ashley Wood well for the forthcoming year.