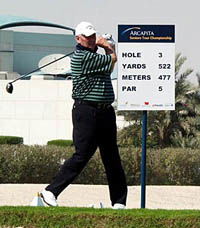 Townhill in action in Bahrain
For many of us one of the greatest experiences we can have as a golfer is to play with a professional, whether it's your own club pro or a Tour player.
They seem to strike the ball so consistently and effortlessly, hitting fairway after fairway, green after green in regulation and holing, it seems, more than their share of putts from 15-20 feet.
But if you can't get to play with a pro next best thing, surely, is to caddie for one.
And that's the opportunity which offered itself to Golfmagic member Mick Foster who works and lives in Saudi Arabia and had the chance to carry a bag in last week's Arcapita European Senior Tour event at his local Riffa Golf Club in Bahrain.
"When the club knew about the tournament they asked for volunteers so I put my name forward to act as a caddie," said Mick, who has been a club member for a couple of months, though is yet to receive an official handicap.
"I volunteered for the practice day but was not required, but was told that during the tournament I would be caddying for Gordon Townhill, who's a club pro at Brough, near Hull and earned his way on to the Tour through last year's seniors qualifying school.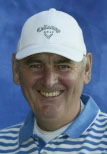 Gordon Townhill




"I was very nervous having never caddied before, but I had checked Gordon's profile on the European Tour website, so knew a little bit about him before we met.

"On the way to the practice ground, my friend and fellow caddie Al Wilson and I, met Sam Torrance's caddie who gave us a few tips and helped to calm our nerves. Former Ryder Cup player Tommy Horton also came over for a chat, as Al met up with Italian Guiseppe Cali, whose bag he'd be carrying.

Mick and Al also watched Torrance, Des Smyth, Carl Mason and John Chillas practice before Gordon eventually arrived and advised Mick they would be in the last group off the tee with another former Ryder Cup veteran Maurice Bembridge and local amateur Peter Mason.

"Gordon explained what he expected of me – to keep his clubs clean throughout the round and clean his ball on the green. He didn't want me to anticipate any club selection but merely keep him relaxed between shots.

"He hit balls with every club in his bag, which included a set of steel-shafted Callaway X-16 irons, a Callaway heavenwood and 3-wood and a Taylormade R7 driver. His putter was an Odyssey 2-ball belly model," Mick recalled.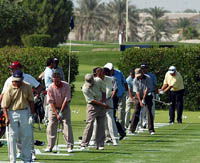 On the range at Riffa




"Gordon reassured me that as he had played in the pro-am, he knew the course layout so didn't require any advice on its hazards. I was really concentrating and trying hard not to make any mistakes. We got on very well and I was enjoying the experience immensely," said Mick.

Gordon completed the round in a two over par 74, due chiefly to a double bogey at the 10th where he found water off the tee.

"I managed to do okay on my first day and walked off the last green very happy. But I wasn't finished yet. Gordon wanted to hit some balls to 'warm down' so we headed for the range for half an hour, followed by a drink and brief 'inquest' in the clubhouse."

On the first day Mick had pulled Gordon's trolley but decided he looked more the part of a caddie if he carried the bag.

"Accompanied by playing partners Bob Cameron and Jeff Hawkes 'we' started well with a birdie on the first but a couple of missed opportunities on par-3s and a bogey on the 17th when Gordon almost lost his ball in deep rough led to his three over par 75.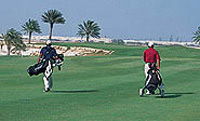 Carry or pull at Riffa club




"However, I kept chatting to him and giving him moral support and we were rewarded with a birdie at the 18th," said Mick.

Gordon, playing with Tony Charnley and David Oakley started with a bogey in the third and final round and hit more trouble around the turn.

"At one stage Gordon was tentatively asking me about club selection and we managed three successive pars before he bogeyed 17 again. But he finished with a par on 18 for a nine over par total and a tie for 35th place (2,317 euro) with Carl Mason and Malcolm Gregson.

"As a dutiful caddie I took Gordon's bag to the locker room and helped him pack it away ready for his journey home. We said our goodbyes and he gave me a sleeve of balls, which I appreciated very much.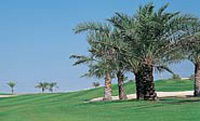 Palm trees a feature at Riffa




"And to complete the experience Al and I had a drink with Guiseppe Cali and I was able to congratulate Sam Torrance on winning the order of merit and Des Smyth on claiming the title," said Mick who revealed that Riffa is the only grass course in Bahrain.

"The course is quite difficult for us high handicappers with some long carries from tee to grass fairway. It is made even more tricky with sand scrub rough and a number of lakes and an island green for one of its par-3s."

Mick highly recommends other Golfmagic members to take the opportunity to caddie for a professional, even in local alliances.

"I was nervous, but I learned so much," he says.

Tell us of your experiences caddying for or even playing alongside professionals, on the forum.