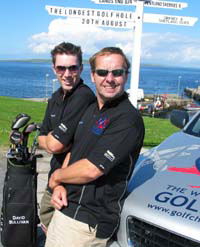 David Sullivan (right) with Tim Allardyce at the start of the epic journey
David Sullivan's quest to walk from John O'Groats to Lands End hitting golf balls, is under way. By the end of day three he had reached Brora Golf Club on the north east corner of Scotland and played 27,000 shots across fields and along roadsides.
Wearing ECCO golf shoes and Galvin Green clothing, he aims to raise £250,000 for the Orpheus Centre, a residential arts and learning facility for the young and disabled in Surrey – as well as for the Tsunami Earthquake Appeal.
By the end of his seven-week journey the Surrey-based golfer, will have travelled more than 1,100 miles in seven weeks in a bid to be eligible for the Guinness Book of Records.
Tim Allardyce, David's physio, who is accompanying him on the first part of his journey commented: "David has been preparing his body for the challenge and I am looking forward to supporting him through what will be an enormous feat in terms of physical challenge".
In his diary David revealed that he lost his ball with his first tee shot at John O'Groats, despite accompanying ball spotters, and had to re-load.
The group eventually reached Wick Golf Club across country and along four miles of beach. On day two he chipped and putted his way along the A9 to Ulbster, before torrential rain ended the day at a Dunbeath campsite. By the end of day three he had played 27,000 shots and reached Helmsdale 'bored and mentally and physically fatiqued.'
You can follow David's progress and daily diary if you visit www.golfchallenge2005.com