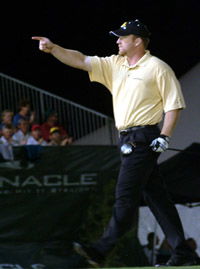 Take that! Burger after his winning drive




Further evidence that new technology definitely leads to longer driving comes with the news that an American golfer has won the world long-driving championship with a distance of 402 yards, five inches.

The deliciously named Clayton Burger, using a custom-built, 4-degree, Cobra-headed driver with a 50-inch shaft, fired the last of his six attempts into the record books at Palms Golf Club, Mesquite, Nevada.

Imagine out-hitting even the likes of Tiger Woods, Ernie Els and John Daly by the length of a soccer pitch.

He claimed the RE/MAX-sponsored first prize of $80,000 even though an earlier drive had travelled further. One effort was still rolling when it crossed the 'out of bounds' side line at 412 yards.

Over 400 contestants from the US and Canada took part in the championship, many of them merely big hitters without a golf game. But 25-year-old Burger, an oil engineer from Texas, has got chips too. His best round is a four under par 68 at Cypresswood Golf Club near Houston, where he also drove the par-5 second hole at the Tour 18 Golf Course.

He gave up a promising career as a baseball player to concentrate on his job but now faces an agonising decision. He must decide whether he wants to commit to a gruelling round of exhibitions and take a tilt at the $1million offered on the 10-stop 2004 Long Drivers Association tour.

Burger's winning driver is 50 inches long and fitted with a triple-X Stiff Penley shaft to a Cobra 427 SS head with four degrees of loft. This is compared to the standard driver length with a 45-inch and average loft is around 10.5 degrees.

So what's his swing secret?

"With the longer club, it's all about generating lag in your swing and then throwing the clubhead at the ball," Burger reveals.

During the finals, Burger's clubhead speed was clocked at 159 mph. Even low-handicap amateurs and club pros struggle to reach 100 mph.

He adds: "I hit 200-300 balls a night three or four times a week."

So there's no substitute for hard work combined with a little modern technology and certain amount of talent.