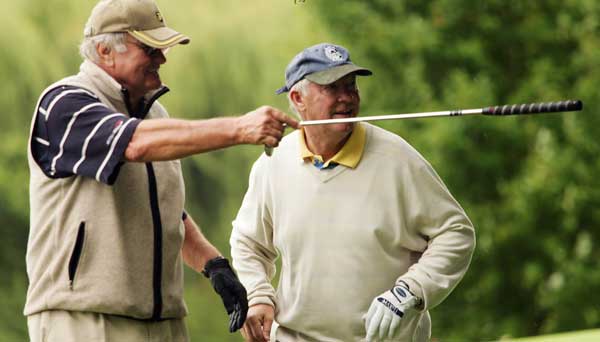 Sir Alex Ferguson gets help searching for his ball at Nailcote Hall
  Sir Alex Ferguson may well be the best in the world as a football manager but as a golfer he admits he's definitely 24 handicap.
The Manchester United Boss took time off from pre-season Premiership build-up to support his old pal Tony Jacklin in hosting the Farmfoods British Par-3 Golf Championship at Nailcote Hall near Coventry.
He also took one look at the leaden skies over the Cromwell course and admitted he's a self-confessed fair weather golfer.
"Looks like typical Manchester weather!" said the Scot.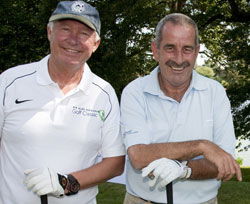 Sir Alex with pal Sam Torrance at his Celebrity golf classic in July




He then stepped onto his first tee in the Celebrity-Am charity challenge and drilled his shot straight into a bunch of spectators gathered around the next green, some 40 yards left of his target!

"See, I told them they weren't safe," he said, with the familiar wry smile of a high handicapper relieved noto to have done serious damage.

"I'm a 24 handicapper; always have been, always will be," he said. "I don't play enough to improve it; perhaps only four or five times a year. If you don't play consistently, you're found out!

"This is only my fourth game this year. I don't play when I'm on holiday, so the whole of June is also out of the question. And I don't play in bad weather so winter golf is out of the question, too. "

But he still shares a passion for the game, along with horse racing and likes to support charity golf events when his busy football schedule allows.

As a young footballer, he recalls, he didn't really take up golf until he played for Dunfermline in 1964.

"There were a lot of great courses in that area and on the west coast of Scotland so I played a bit then and got my handicap down to around 18. When I played for Rangers I kept on playing but when I became a manager I played perhaps once a year at Aberdeen. I was useless then and only picked it up again about four or five years ago."

Gleneagles he says is one of his favourite courses ('just for the scenery really') and he loves the chance to play Turnberry where he was impressed with the performance of 59-year-old Tom Watson in the Open Championship.

"You could see he just got tired for that last chip shot at the 72nd hole and then the play-off. But he was unbelievable. On a tip off from Sam torrance I backed Lee Westwood and he should have won it."

Despite the upcoming prerssures of a pre-season Friendly with Valencia, the impending Community Shield and an opening Premier League fixture with Birmingham City at Old Trafford he was friendly and convivial on the course, signing dozen of autographs.

He even fielded questions about his former player Ronaldo.

"United will never replace him. No matter what anyone says about the lad, for my money he is the greatest footballer in the world."