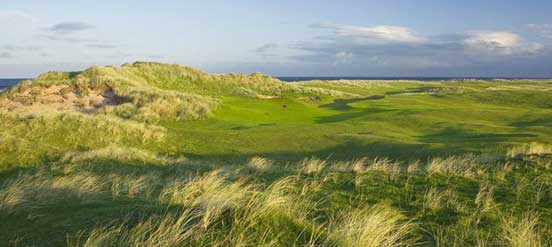 14th hole at Machrihanish Dunes
BBC golf and rugby commentator Andrew Cotter has a new claim to fame. He's first to achieve a hole-in-one at Machrihanish Dunes, Scotland's latest world class golf course.
It was also the three-handicapper's first ever hole in one, despite playing golf for 33 years.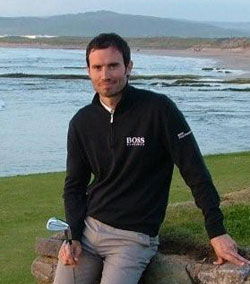 Andrew Cotter after his ace at Machrihanish Dunes




Cotter was playing a round with Scottish International rugby stars Gregor Townsend and Fergus Wallace when his 9-iron tee shot at the 131-yard 14th hole hit the green and dropped into the hole.

"You could hear the cheer right across the course," said Hadyn Chambers, facilities manager Machrinhanish Dunes.

"The other guys had been teasing him earlier about the fact that they have all had a hole-in-one on other courses but Andrew had never managed to do it, even though he's been playing since he was three-years-old."

The 36-year-old from Troon, in Ayrshire, has reported from the Open Championship and the Ryder Cup as well as the US Masters, the US PGA and the US Open where last year he caddied for Gary Wolstenholme. He has played golf for Scottish Schools and Scottish Universities and his grandfather played rugby for Scotland.

"It was a fantastic day," said Andrew. "Machrihanish Dunes is going to be the one of the best courses in Scotland."

The course is the first true links course to be built in the west of Scotland for more than 100 years. Designed by David McLay Kidd, it's the only one in the world on a site of special scientific interest, which is home to rare orchids and one of the most important sand dune systems in the country.

The developers worked closely with Scottish Natural Heritage and employed their own project ecologist to create the course in such a way that it bypasses areas of wild plants and helps protect the site. It took five years of painstaking work to create the 72-par course which started allowing limited play in May ahead of the official opening in July.