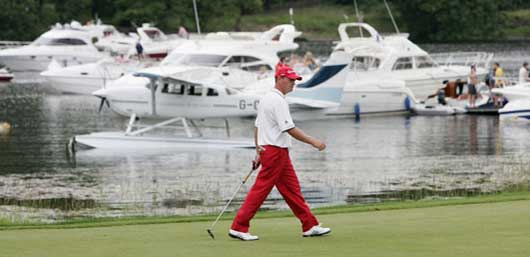 Drysdale in action at Loch Lomond, where he'll be next month
 Andrew Raitt has joined the Golfmagic team to catch up with some of his former colleagues on Tour and to give a pro's insight on the latest equipment. The George's Hill pro is currently top of the PGA Southern Region Order of Merit, having won four events including last week's Tylney Park Classic where he finished 10 under par for the three-round event.
IN MY OWN playing career on Tour, I felt that I had to deal with more adversity than most because of a bizarre injury - a dog bit off the top of the little finger of my left hand at the start of my career resulting in years of treatment and legal proceedings.
And in a game where the mental side is so crucial to allowing yourself to perform to your potential, being able to deal with disappointment is vital to any Tour professional.
Indeed Sir Nick Faldo once said 'golf is 90 per-cent disappointment' - and he was the world's No.1 player at the time!
David Drysdale, a good friend from years on both European and Challenge Tours is another who has had to deal with a couple of real body blows in his career.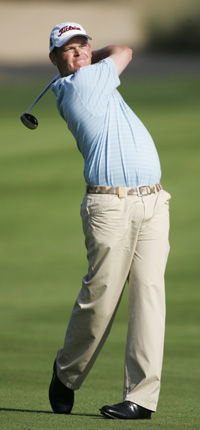 Drysdale using the Callaway Steelhead woods he's had for ten years




At the start of every season, all Tour golfers have one prime objective - to retain their playing privileges and make sure they have a job for the next 12 months at least. A really good start to the season can ensure this early on and a win can confirm it for at least the next two after that.

However, the longer the season goes on without a win or enough high finishes to secure those privileges, the pressure builds and makes having a great week more and more difficult. The magic number of points (equivalent to earnings in euros/sterling) can only be predicted by an educated guess with hundreds of thousands available each week.

A player can have had the worst season, missing a succession of cuts and then winning in the last week to jump a hundred places up the order of merit (Race to Dubai) as Christian Cevear did recently at the European Open.

Twice in last few years Drysdale has been the victim of golf ruthless nature. Three years ago, a mutual friend Sam Little, holed a three foot, downhill left to righter on the last green a Spanish event to secure the last exempt spot on Tour- and effectively relegate him to the Tour's version of the play-offs, known as the Qualifying School!

The following year the Scot finished 116th one spot from exemption, so another trip to Q-school. If a player is in this position once in his career it can be tough to get over. Fighting your way straight back up is always difficult but Drysdale has managed it twice!

This season has been ground-breaking for this very good ball-striker and all around strong player. A close-run second place in Spain and a string of top tens has secured his privileges for at least next season and catapulted him to 54th in the Race to Dubai. Now, he told me during the Wales Open, he's ready to push on for the rest of the season. So what happened that was different from his past disappointments?

"There were two big changes I made during last season. I changed my coach and I changed my attitude. I now get help fron David Downie. He has been a good player and has worked with Bob Torrance for 15 years. That's a great education for anyone in golf

"He has particularly helped my hip action and stabilized my lower half in the swing. I used to straighten my right knee and lift the club, but now I turn into the knee much better. It certainly helps my consistency and improves my bad shots, " said Drysdale.

He told me he's really happy with the direction his game is taking and that has increased his confidence and belief. His change in attitude came when he was paired with two established Tour winners at The Belfry last year.

He recalls: " All our earnings were put on the big board walking onto the green. Both of them had earned around the £800,000 mark and I was struggling to keep my card again. I felt I was as good as them and decided right there that I would rededicate myself to my game. I went back to Q-School but it has been very different this year."

In the next month Dave is playing in Munich at the BMW, the French Open at Paris National (his favourite course on Tour), Loch Lomond and then his first Open at Turnberry, having shot rounds of 65 and 66 at Sunningdale last Monday in Qualifying.

The prospects look good for the next month for David Drysdale. Look out for him, he can really play and now he believes it, too!
What's in David Drysdale's bag

Driver: Callaway FT-5 (8.5 degrees) with Grafalloy shaft.

Fairway metals: Callaway Steelhead 3+ and Steelhead 5+ (These are 10- year-old heads and he says the slightly rounded sole helps him get the flight he likes).

Irons: Callaway X-18 Pro series . (Using the same model for more than five years).

Wedges: 48, 51.5 and a 57-degree lob wedge. Putter: Yes! Golf C-groove