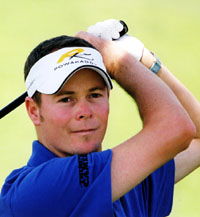 David Carter - ambitious
Despite his fresh-faced schoolboy complexion, David Carter has suffered a 15-year, bruising career of highs, interspersed with life threatening lows, on the European Tour.
And in an exclusive interview with Golfmagic he revealed this week that he's now ready to follow in the footsteps of his brother-in-law, Swede Freddie Jacobson and bid to test his mettle on the PGA Tour. Indeed it he was bolstered by a series of text and telephone messages from Jacobson – David married his sister Therese and now lives in Gothenburg - as he clambered to 17th place in the European Qualifying School last winter after losing his playing privileges.
Carter, 32, joined the Tour in 1989 but in March 1997 required emergency brain surgery after collapsing in a Dubai hotel. He recovered to beat Colin Montgomerie in a thrilling play-off for the Murphy's Irish Open and later claimed the World Cup with Nick Faldo in New Zealand.
Since then his career has slowed down culminating in that qualifying school visit last November but with a new son Leo, a new coach Scott Cranfield and more consistency in his golf game, he's looking forward ambitiously to the future.
You've made a much more encouraging start to the season
I finished tenth in Hong Kong and after a break with the family in Florida I got two invites to events in South Africa and finished fifth in the SA Open and 40th in the Dunhill.
Since then I've played very steady and missed only three cuts in 12 events, including a 13th at the Deutsche Bank in Germany.
What has brought about the improvement?
It's down to chipping – it's so much better since I went to see Scott Cranfield at the end of last year.
He has given me so much confidence. I'm not guessing with my chips any more. I used to try and fix it myself but that's often down to how you feel in yourself and that's not the way to do it. Scott gave me a lot more direction.
I see him once a month now and he makes the sessions good fun. Chipping is now the best part of my game.
So you're looking forward with anticipation?
Definitely. This year has been my most consistent and that's what you're looking for, to eventually hit the top.
Last week for instance I was lying seventh in the Welsh Open at The Celtic Manor until I had an horrendous eight on one hole and dropped away to 26th in the end. But the signs are there and I haven't seen those signs for the last four years.
Since 2000 I've had one top ten a year and missed a lot of cuts. I've always been a good ball striker but now you need to be able to do everything pretty well. There are a lot of hungry guys looking to take your cash.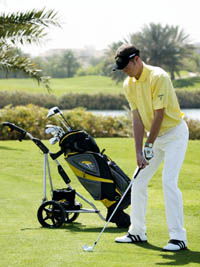 Equipment change
Equipment has changed a lot since you've been on Tour, what the biggest difference?
Drivers, without doubt. I joined the Tour in 1989 and indeed I remember winning the Tour School in 1994 using a Honma persimmon-headed driver with a graphite insert and using bladed irons.
You were one of the first to use a broomhandle putter.
Yes, I saw Mark James use one for the first time to win in Morocco in 1995 and I switched in 1998.
I was playing in Australia and my caddie suggested I try a 45-inch version tucked against my sternum. I bought a Ping model from East Lake Golf Club in Sydney and added about an inch to the shaft. I've still got it somewhere but I use a Never Compromise Voodoo broomstick now having reverted to a belly and a short putter in between.
There has been much talk on Golfmagic and I'm sure on tour of the broomhandles and belly putters being banned. What's your opinion?
Yes I've heard there are people wanting to ban them. But as long as we've got an option I'll play with what every the law-makers decide. I was never a bad putter with the short putter but I'm a better, more consistent player with the long putter.
With the rewards in golf, surely you are going to putt with whatever you can putt with best. If it's openly available to everyone, it's not cheating. After all you've still got to get the ball in the hole. As long as you have to make a stroke it's okay with me.
What are the advantages of the broomhandle or belly putter?
Less things can go wrong with your stroke. Technically it's a lot easier way of putting. And let's face it, since the game now is so much about putting, if you can take away a lot of negative things from putting then why not? But obviously some people are not happy about that.
You must get asked regularly about the best tip you can give an amateur – and at Golfmagic we're no exception.
Keep it simple. As I found with Scott, you don't need drastic measures – a regular lesson now and again will do the trick. Amateurs tend to have one or two lessons then nothing for six months. I see Scott once a month, then probably for five days at a stretch. That's what a professional will do. Amateurs tend to try one guy and if he's not instantly working, they switch to someone else and get overloaded with too many things.
Jack Nicklaus had the same coach all his life, Tiger Woods had Butch Harmon, Faldo had David Leadbetter. You need to see a pro regularly for regular check up and advice to keep in the right direction and keep it simple.
If I wanted to play tennis better, I'd see a tennis pro for advice then see him regularly. I can't imagine anyone not knowing anything about golf and then trying to play. It's such a difficult game.
So my advice to Golfmagic visitors is to get a little help continuously over a period of time. You'll enjoy it much more.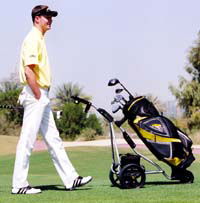 Carter – a walking ad for PowaKaddy
You are currently promoting PowaKaddy. Why?
My management company were already marketing the product and PowaKaddy saw me as a young person who could help them promote them to younger golfers.
I've got the RoboKaddy with remote control and it's fantastic. I'd never used one before and I love it.
My current caddie, Cliff Botha, would love to use it on Tour but it's impractical. With the crowds that attend events you'd have to manoeuvre it through them and that just wouldn't work.
But for the serious golfer a PowaKaddy is ideal – and it's amazing how many good amateur players, even juniors, are using the PowaKaddy now. Medically it's better for you that you don't have to carry a bag or pull a trolley. The electric Powakaddy will definitely give amateur golfers an advantage.
So what are your goals for this year?
I'm hoping to continue my improvement and my consistency but at the end of the European season I'm going to try to qualify on the US PGA Tour.
If I can pre-qualify for The Open Championship at Royal Troon and then make the cut I can go straight to the second of three stages needed for the PGA Tour, otherwise I'll have to start at the beginning.
Freddie hasn't said anything bad about the PGA Tour, so I'm looking forward to a new challenge.
If I don't make it all the way first time and I get a good card for the PGA Nationwide Tour, I'd play half a year there and half a year in Europe, just to get a bit of experience of playing in America. I might even get the odd start in a PGA Tour event.
But I've played for ten years in Europe – and it would be nice to have a change and play somewhere different. I enjoy it in Europe but I've prolonged this decision for six or seven years and eventually I've decided I've got to do it.
This week David Carter is playing in the Diageo Scottish Championship event at Gleneagles Hotel. We wish him well.