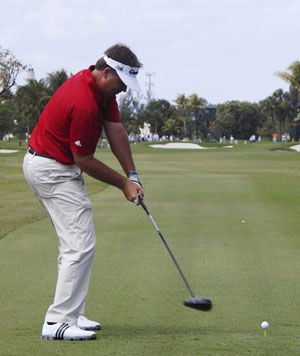 Kenny Perry - technology has helped him to keep pace
  KENTUCKY golfer Kenny Perry(48)has won twice on the US PGA Tour this year and finished second in the US Masters but admits his greatest regret is being a slow learner for most of his career. He says he could have been a much better player.
Perry raced to the top of the FedEx Cup standings - the US Tour's equivalent of Europe's Race to Dubai - when won the Travelers Championship in Connecticut at the weekend with a final-round, seven-under-par 63 at TPC River Highlands and leapt to No.4 in the world rankings.
But he told the Columbus Dispatch: "It's a shame I figured it out so late in my career. I wish I could roll back 20 years and have the mind-set I have now and my golf swing.
"I hit it beautifully 20 years ago but I didn't have the short game and didn't have my head where I have it now. I'm just a slow learner, I guess."
Evergreen Perry admits that technology is helping him to keep pace with the younger, more athletic players on the PGA Tour.
"I turn 50 next year, so I'm doing stuff probably most people shouldn't be doing. I'm very thankful for it. My health is good. I'm hitting it 300-plus yards. I'm doing neat stuff. The ball goes miles with my driver so I'm able to hang in with those kids."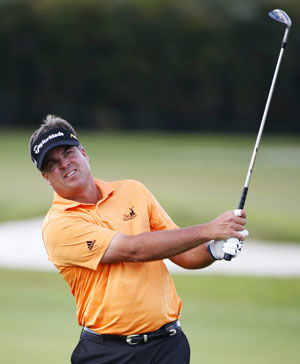 Perry says Ryder Cup was crucial to his career.




He also credits his current excellent run of form on the hard work he put in last year in his successful bid to qualify for the US Ryder Cup team

"It all goes back to the Ryder Cup. I was determined to make that team. Getting to Valhalla (Cup venue) was my main goal for last year and I worked extremely hard to reach that goal."

And despite losing a brace of major play-offs - the other was the 1996 PGA Championship at Valhalla he remains upbeat.

"Both of those losses will stay with me forever. But if losing in a play-off at the Masters is the worst thing that happens to me, I'm doing pretty well. There are a lot of people around the world struggling with incredible hardships. Why should I dwell on finishing second at the Masters?"

Using his TaylorMade R9 460 (9.5 deg) driver, Perry ranked 12th in driving distance with an average of 293.1 yards , hitting 80 p[er-cent of fairways and ranking tied third in greens in regulation. He was one of 38 players who played an R9 driver, 14 of whom used the newly-introduced R9 460.

What's in Perry's bag

Driver: R9 460 (9.5 deg)

Fairways: TaylorMade Burner 3-wood, Prototype Raylor (17.5)

Irons: TaylorMade r7 (4 – PW)

Wedges: TaylorMade rac (54 and 64 degrees.

Tell us on the forum: What's your biggest regret? Is it golf-related or just in life? Time to share your experiences. We're listening...