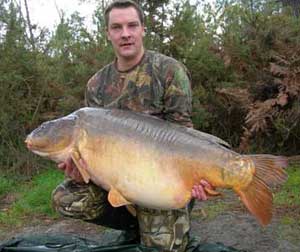 Gary 'The Golfer' Hagues with his record fish
Multi-talented Gary Hagues, senior PGA teaching professional at the Grassmoor Golf Centre near Chesterfield, Derby has hooked a world record fish today.
Fishing the Rainbow Lake in France, on a break from his duties curing members' slices at his local course, he landed a world record mirror carp of 87lb 2oz to beat the previous record by Pete Fitzsimmons (84lb 8 oz) which had stood for just three weeks.
Simply known as 'Gary the Golfer' by his angling pals, he caught the same monster fish again a year after landing it at the same swim at a weight of 83lb 8oz.
Tell us about your multi-talents on the forum. As well as golf are you good at other sports?