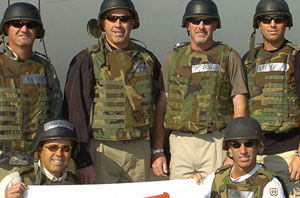 Left to right (back): Jerry Kelly, Art Sellinger, Frank Lickliter, Brian Pavlet.(Front): Donnie Hammond and Corey Pavin
Former US Open champion Corey Pavin and Ryder Cup golfer Jerry Kelly are among a group of PGA Tour golfers who have just returned from 'Operation Links' visiting troops in Iraq and Kuwait.
They were joined by Donnie Hammond, Howard Twitty, Frank Lickliter and long-driving champions Art Sellinger and Brian Pavlet distributing 3,500 Titleist and Pinnacle balls to military personnel at their desert bases and performing clinics.
To entertain the troops they hit balls along runways (a competition won, surprisingly by Pavin, the smallest in the group), off aeroplane wings and even from tank turrets, while also visiting field hospitals and forward bases to chat to their hosts, many of whom are golfers.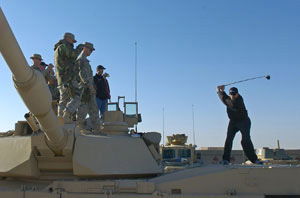 Long drive champion Art Sellinger hits from a tank




"While we were in the Kuwaiti desert, we hit some balls at a driving range," Lickliter recalls. "We gave a few lessons and just talked golf with the troops. Brian Pavlet, drove a ball clear through the netting and another 200 yards further on. Someone found the ball 15 minutes later. Another of us hit a backpack on a table, luckily preventing damage to our bus just behind it."

"And I have to tell you that Jerry Kelly has been promoted to lieutenant, having earned his combat action badge when he fell down and skinned his knee!"

Added Lickliter: "One of the officers told us our visit would leave a deep impression on the troops as it already has on us. We just wanted the soldiers to know that they have tremendous support back in the US and are doing great things for their country and for Iraq."