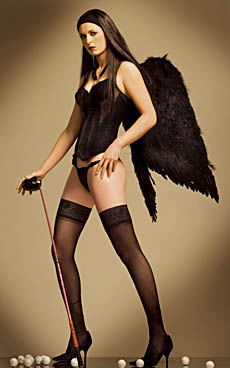 Sophie Sandolo - driving ambition
Sophie Sandolo, the European Ladies Tour golfer from Italy, has released her third new sexy calendar and it's certain to raise eye brows - and temperatures - this Christmas.
This new edition, she says, combines elegance and sensuality with a touch of daring and mischief.
"I still have the same objective of bringing greater visibility and glamour to women's golf and putting it in the spotlight in a modern and feminine context," says Sophie, who launched the calendar at the weekend at a glittering party in Monaco.
"The results I've seen, prove to me that I'm on the right path but we still have a long way to go."
She adds: "The past season has been very satisfying ( she had four top ten finishes including 6th at the OTP Central European Open) and with a bit more luck, it could have been even better. Obviously, my marketing studies have helped me a lot in terms of image and publicity and helped me organise and evaluate my sports activities better and improve in my work."
Born in Nice, France to an Italian father, Sophie (30) turned pro in 2000 after an excellent amateur career, which included claiming the European title.
Her other passions include dance, windsurfing, biking and updating her website, which attracts visits from around the world. She has also served on the Ladies European Tour committee.