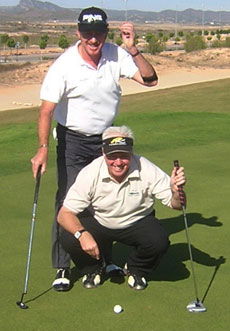 Give me a line Miguel: Jimenez with Bob Warters
At 5ft 10in he's smaller and less barrel-chested than he appears on our TV screens but Miguel Angel Jimenez still generates a significant presence on a golf course. With his musketeer's moustache and trademark ponytail emerging from his Ping baseball cap - he possesses a straight-backed strut like a matador encircling a bull.
Appropriate then that one of our playing partners should be his good friend Pepin Liria, one of Spain's foremost bull-fighters who's a very handy eight-handicapper when wielding a club instead of a cape.
We were joined in this 9-hole Masterclass, interview and photo opportunity by 34-year-old Lisa Reide a dental assistant from Chichester Golf Club in Hampshire, who won the right to a golf break with our hosts, the Hacienda Del Alamo Resort near Murcia, Southern Spain, and a round of golf with Jimenez in a competition run by a golf TV channel.
Despite her first tee nerves, she proved an admirable and talented 13-handicap competitor, sharing Jimenez's buggy and his accompanying encouragement by drilling almost every drive straight and true and hitting some delicate approaches that had the former Ryder Cup player and vice-captain purring with pride.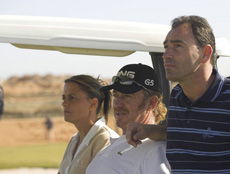 Lisa with Jimenez and bull-fighter Liria




For me, he had merely sympathy because after witnessing his enlightening bunker clinic earlier, I promptly found more sand than Mr Goodwin could beach a lightship on.

I drove into it off both the first and second tees, while Jimenez recorded a couple of opening birdies, then airmailed the green from it at the third when attempting to finesse a long bunker shot.

I was beginning to feel somewhat surplus to requirements in this fourball, when, having taken his advice at the 320-metre third hole and used fairway metal off the tee, I hit my under-clubbed approach into yet another trap.

But Miguel strolled over with a consoling arm round the shoulder. "Relax," he said "it's a beautiful day. Soon we will have you hitting good shots."

I took his advice and concentrated on watching the man who won six times on the European Tour in 12 months between 2004/5, at work with a fluid action that belied his military demeanour between shots.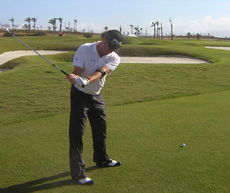 Jimenez pre-shot swing routine stretches the muscles




I asked about his distinctive pre-shot routine - a kind of round-arm, flat practice swing that bears little resemblance to the one he uses to hit those towering fairway metal tee shots and approaches to par-5s.

"It's a practice swing that also helps me stretch. I can get stiff quickly between shots and I need to keep my shoulder and back muscles flexible," said Jimenez who celebrates his 43rd birthday in January. "Swinging around my body helps me and it has become part of my routine and helps my concentration."

I also enquired about the Ryder Cup in which he had played such a vital part in 2004 in the record European victory over USA at Oaklands Hills. Was he disappointed that captain Ian Woosnam hadn't considered him as a wild card when he hadn't qualified?

"No, not at all. The Ryder Cup is all about the team and how you can contribute to the team.

"My game wasn't bad at the beginning of the season but from June I started missing fairways and greens. I don't know why...it just happens. So my world ranking and my position in the Ryder Cup points table went down," said the man they call 'The Mechanic' because of his love of tinkering with his beloved high-powered sports cars.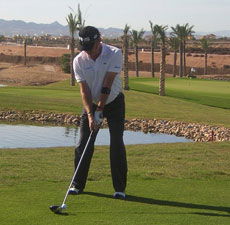 Jimenez address at Hacienda Del Alamo




"So no, I was not disappointed to miss the Ryder Cup. If you're game is not fit to play, it's better that you're not there. You have to be in the right position and your game has to be in the right condition for you to contribute to the team, " he confessed.

"But I watched it all on the television and I was very proud of the European team,"said Jimenez before racing off to catch up with his playing partner Lisa, faced with a ball sitting on top of one of the waste areas which flank every hole.

Here, like many of Spain's modern courses, the surface is covered with fine gravel which keeps the ball visible and the play moving. To play the shot well, says the Spaniard, demands good balance in your stance and precise ball striking, even though, unlike bunkers, you are allowed to ground your club at address.

"You have to treat these conditions as if you are in a bunker," Jimenez advises, "to pick the ball off the top.

"I always say you should try to maintain your balance through the swing and don't try to swing too hard, because your feet are certain to slip a little. Grip down the club and focus on the ball. Swing easy and not too steep, so you can catch the bottom of the ball first and sweep it away."

As the round continued, nerves subsided and everyone's confidence grew in the presence of the master tactician, who next week will be representing Spain, alongside Gonzalo Fernandez-Castano in the WGC World Cup at the refurbished Sandy Lane course in Barbados.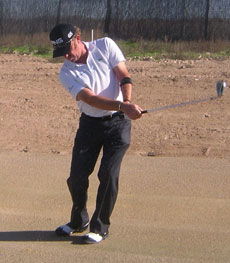 Balance is vital playing from waste areas, says Jimenez




As we crouched down to read a tricky putt on the penultimate green he was intrigued by the shape of the Elmer M1 putter I was reviewing for Golmagic. But he refused to handle it.

"No, no I can't be photographed with another putter. That would be wrong, it would be disloyal to Ping. I've been with them for 15 years. Besides they would kill me!"

And as he cosied another 20-footer up to the edge of the final hole - to end my close-up of one of the world's finest players in action, I thanked him for his patience and told him it had been a privilege to play alongside to watch him at close-quarters.

"Remember," he said with a firm and genuine shake of my hand, "for me golf is my work, for you it is a game. But on a beautiful day like this on a great course like this, it is important for us all to relax and enjoy it. Swing through the ball and you will play your best golf."
My thanks to Miguel Angel, Pepin and Lisa for their patience and also to the management of Hacienda Del Alamo Golf Resort for their hospitality and for the opportunity to sample a destination which is fast getting a reputation for the quality of its villas, apartments and sporting facilities.

And look out for more exclusive instruction images and tips from Miguel Angel Jimenez later this week.