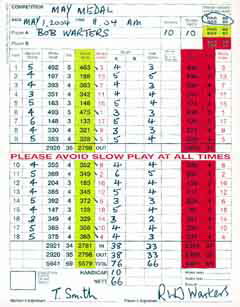 A typical scorecard
The golf handicapping system is almost unique in sport. It enables a player with only a few months experience to compete on level terms with a single figure player or an average club golfer to compare his or her score with Tiger Woods or Annika Sorenstam.
If you're a member of a bona fide golf club or even a society, you can submit properly completed scorecards, signed by a playing companion and have your handicap adjusted.
For new golfers, most clubs accept three completed cards and allocate a handicap (maximum 28 for men, 36 for women) based on the 'standard scratch score' for the course, subtracted from the average score.
For each subsequent score submitted in official qualifying competitions (for example a monthly club medal), a handicap can move up or down. In simple terms it usually reduces by .2 for every nett stroke under SSS and increases by .1 for every round over your handicap or abandonned.
However, there are slightly different amendments depending in which category your handicap falls (e.g. for men: 0-5 (Cat 1), 6-12(2), 13-18(3), 19-28(4)).
Following a great deal of interest on our popular GM forum, this year, we're looking for Golfmagic.com's 'Most Improved Golfer 2006' and if you're a GM member (it's free to join) you can take part.
Over the next few months you can submit your current handicap to a special Handicap Watch forum thread (in the Rules/Handicapping section), then see how you rate on the GM league table of most improved players. We're planning to nominate interim winners every three months and at the end of the season find an overall winner.
Robert Ghazala, a 14-handicapper, has offered to monitor the league table and has already received dozens of candidates, submitting their official handicaps.
Obviously at this time of year – when courses tend to be shortened for winter play – there are very few official qualifying competitions to give an accurate indication of how well a golfer is playing.
For example, for various reasons last season, while looking to regain single-figure status for only the second time in 30 years, my own handicap went up from 9.6 to 10.5 despite entering over a dozen qualifying competitions.
However, yesterday, inspired by the possibility of a 'kitty' of financial inducement, I returned 41 stableford points – five shots under my handicap!
Normally my playing status would be cut to around the 9.8 mark in high summer but instead I now join that group of temporary outcasts referred to in every club or society as 'bandits!'
I won't be contesting it, but our new 'Most Improved GM Golfer' is only a bit of harmless fun and hopefully will generate enormous interest on the forum and allow us to regularly profile our most improved members and track their changing fortunes.
I'm grateful to Robert and the fellow members helping him identify improvement accurately with the fairest system whether it be by decimal point or percentage and we look forward to you submitting your handicaps over the forthcoming weeks and months.