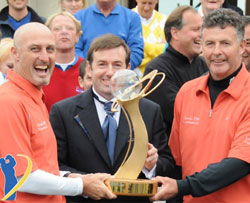 Ashcroft (left) and Graves receive the World Pairs trophy from Ross Honey.
In a shock revelation today, amateur golfers Deen Graves and Martyn Ashcroft, from Teignmouth Golf Club have been stripped of their World International pairs title after their qualification for the 2008 final at St Andrews was found to be falsely achieved.
Organisers of the global event, the world's largest of its kind for club golfers, took the decision to disqualify them and hand the title to Scots runners-up John Maxwell and Stephen Brown from Bonnybridge, after discovering the English pair had organised their own tournament among friends and Ashcroft was not a member of the club he claimed.
Graves, a 14 handicapper and Ashcroft (19), reached the UK final at Carnoustie by claiming to have qualified from their previous club at Dawlish Warren in September last year and went on to reach this year's World final.
However, subsequent enquiries, revealed that not only was their qualifying club event not officially sanctioned, Ashcroft had not joined the club he claimed to represent until a fortnight after the Carnoustie event.
Ross Honey, chairman of International Pairs, said: "Due to the margin of Graves and Ashcroft's victory last month - 88 points over two rounds compared to the Scots' 81 - there was a question about handicaps that we decided to look into.
"This is not unusual, but we found that not only had they held a club qualifying event that was not in accordance with the rules but also that Ashcroft was not a member of Dawlish Warren.
"Having looked into the matter in great detail and taken advice from organisations including The R & A, we have been left with no choice but to take the action we have. They broke the rules and it is essential that the honesty and integrity of International Pairs is preserved, not only for our competition but to uphold the values that the game of golf stands for."
Graves ( aged 43) and Ashcroft (53) from Torquay, claimed they had beaten 24 other pairs to win their club qualifier at Dawlish Warren on September 13, 2007. But they admitted later they had staged the event especially for friends to celebrate Deen's birthday, while the pair they had listed as finishing as runners-up did not belong to their club.
Ashcroft claimed that he had joined Dawlish Warren from Exminster Golf Club at the start of September but enquiries revealed that he didn't become a member of the club until Oct 29, 2007 - weeks after he and Graves won at Carnoustie.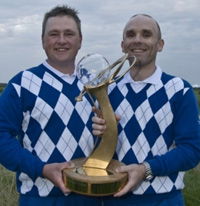 The Scots with the World Pairs trophy
Kevin Barker, assistant director of Rules for The R & A, said: "I can confirm that the side should be disqualified even though International Pairs has posted the results of the competition.
"There is no time limit on imposing a disqualification where a side was ineligible as it has not met the entry conditions."
Maxwell from Falkirk, who along with his partner plays off a four handicap, commented: "Steve and I were stunned when we were told the news that we had been promoted to world champions. We understand the reasons for what has happened but it is going to take a while for this to sink in."
Pairs from 24 countries including the United States, South Africa, Canada, Iceland, Nigeria, Sweden and Singapore took part in the 2008 International Pairs World Final at The Dukes course in St Andrews last month - which was run in association with VisitScotland.
Tell us on the forum if you have played in a qualifier for the International World Pairs at your club.