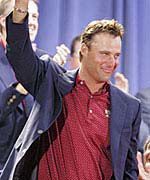 Chris Di Marco - inspirational
I'm more than a little worried about Europe's chances in the next Ryder Cup, due to be played at the K Club in Ireland next September.
Performances by both teams in the Seve Trophy at the weekend in which Great Britain and Ireland's pro golfers overcame the cream of Europe did little to allay my fears that the US really want Sam Ryder's cup back.
And judging by the bally-hoo surrounding their claiming the President's Cup over a Rest of the world team they'll be up for it, come the end of next season.
And it was no coincidence that the fervour running through the team had more than a flavour of Hurricanes Katrina and Rita that had devastated parts of Texas, Louisiana, Florida and Alabama where many players are residents.
There was a 'pull together' charitable bond even among the usually remote Tiger Woods and Phil Mickelson which played a key role in the victory.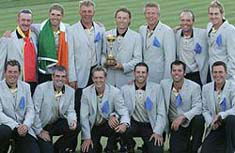 Winning Europeans in 2004




Each team member suddenly turned into an emotional Fred Funk or Fred Couples and it was perhaps fitting that Chris Di Marco epitomised the new found spirit of America by holing the winning putt.

To the US it suddenly became clear that this type of event - man v man, golfer v golfer - really mattered.

It wasn't about the fist-pumping, the hollering and chanting that soured Brookline and Kiawah Island, this was getting in a huddle for the team – all for one and one for all.

As for what went on at The Wynyard – it was far more sedate and, I detected, had a touch of arrogance.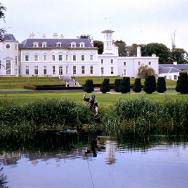 K Club – 2006 venue




Even though he later withdrew his comments, Seve Ballesteros, commented that he wasn't that impress by some of the players on either team and that they would have to show vast improvements if they were to keep the Ryder Cup.

Certain candidates for places in Ian Woosnam's eventual European team – Darren Clarke, Lee Westwood, Sergio Garcia and Luke Donald – gave the Seve Trophy a miss for various reasons, which offered opportunities to some on the sidelines.

But few of them showed much grit and as for Woosie's fellow Welshmen Stephen Dodd and Bradley Dredge, I've seen more passion on a bowling green.

Apart from the four who sat it out I can only see guaranteed places for three other Irishmen – Padraig Harrington, Paul McGinley and Graeme McDowell – an Englishman (David Howell) and a Swede (Niclas Fasth) whose fighting qualities are just what we need.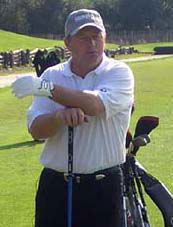 Woosnam - qualities




I fancy Thomas Bjorn and Miguel Angel Jimenez will mop up the other automatic places, leaving Woosie and his selectors to nominate a couple of candidates from those who don't make it from the World rankings or European Order of merit.

I asked Woosnam the other day what qualities he would bring to the captaincy.

He stumbled slightly, remembering how Torrance had contributed psychological nous and tactical awareness and Langer that minute attention to detail.

"My experience and my enthusiasm," he said, also inferring that he knew how to fire up his own players and get under the skin of the opposition.

Sorry Woosie but it won't be enough. You'll need to know how to inject some discipline – not always a strength when you were playing at the highest level and found practice boring.

Also he doesn't care much for those who are 'a bit flash' in his eyes, or hide behind their Oakley shades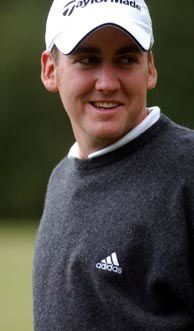 Poulter – not automatic




That's why I think Ian Poulter, Paul Casey and Nick Dougherty will struggle to get his attention, along with the enigmatic Henrik Stenson and bland Peter Hanson.

With influential Midlanders Peter Baker and David J Russell among his lieutenants he might feel that the experienced and resurgent Paul Broadhurst and his neighbour Steve Webster will prove a compelling foursome/fourball combination if they finish high enough up the rankings.

While the captain could do with poor weather to unsettle the Americans, he could also do with a Hurricane Higgins packed with natural talent and determination, to blow into Dublin and give the Europeans an edge they currently lack.