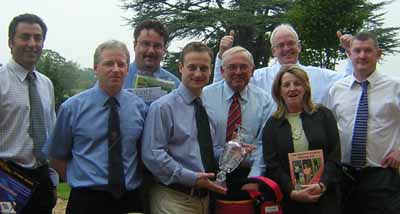 Prize-winners at Hanbury Manor




Eugene O'Sullivan won the TaylorMade/Golfmagic Trophy yesterday at Marriott Hanbury Manor Hotel in Hertfordshire without striking a tee shot or holing a putt. In fact, the oil company account was thousands of miles away in Algeria at the time.

After setting a target of 75 stableford points (his best two scores of 35 and 40 from competing in four of the six rounds) the 19-handicapper from St Neots Golf Club in Cambridgeshire held on to his lead, despite some early challenges from a handful of golfers in the early stages over the course designed by Jackie, the son of Jack Nicklaus.

Michael Varley, needing 38 points, got off to a flying start with 22 points over the front nine, including a birdie (4 pts) at the tough par-5 second hole, but his longest drive of the day, requiring a 4am start from Allerthorpe Park in East Yorkshire, eventually took its toll.

"I tired around the turn and a run of sixes, and failing to score on the par-3 16th, proved crucial," said the left-hander.

Nic James, a six-handicapper from Wales, had looked confident he could achieve the points needed to overtake O'Sullivan's 'clubhouse lead' with many of the par-4 holes comfortably reachable in regulation. But the big-hitter from The Gower, had to settle for 34 points and the longest drive prize.

"It was disappointing but my game wasn't quite there today. But good luck to Eugene, he deserves it," said the former Welsh badminton international.

Delighted to have won, O'Sullivan cmmented from his work base in Algeria: "I must confess I am a little surprised. I checked the weather forecast for the UK yesterday and it looked liked it was going to be a high scoring day for those playing in the final round.

I played on four great courses, and was fortunate to have played well on two of them. Even my "bad" rounds were still great days out in good company which I thoroughly enjoyed, even the weather at the Oxfordshire!"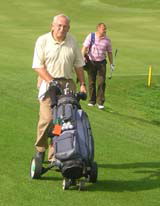 Michael Varley, runner-up
When I joined GolfMagic at the start of the year, I was just interested in playing some new courses on my time off, as most of my friends were at work. I have no idea how I found the website but I am glad I did and now find myself logging on first thing every day.
The site has really rejuvenated my interest in the game having, at the start of the year, contemplating quitting. I was playing lots of golf, but not improving but this TaylorMade/Golfmagic series has changed all that, for which I'm very grateful."
Winner on the day at Hanbury Manor was Rutland businessman Gil Harding, who has recently moved north from Southampton and is a veteran of many Golfmagic golf days. He started badly by failing to score on the opening hole but a birdie at the uphill par-5 ninth gave him 22 points at the half way stage on to which he tacked a further 19 for 41 points overall.
He later offered his first prize – a TaylorMade carry bag – for auction and it raised £55 for a hospice charity.
Second place went to 21-handicapper Shalin Saggar with 38 points and third was Cosby's Chris Biggs (11) one point adrift. Fourth was Adam Laird (12) also on 37 points, who holed his 6-iron second shot at the 371-yard par-4 14th for an eagle and five stableford points, while Angelo Esposito was nearest the pin at the par-3 fourth hole.
Golfmagic thanks all those members who helped to contribute to the success of the tournament series and especially to TaylorMade for their sponsorship and providing demo clubs and goodie bags for competitors at each event.
Look out in forthcoming weeks for a report of Eugene's custom-fitting at The De Vere Belfry and news of next year's series, dates and venues.
Hanbury Results

41 points Gil Harding, 38 Shalin Saggar, 37 Chris Biggs, Adam Laird, 36 Michael Varley, John Vila, John Williams, Bob Warters, 34 Nadeem Syed, Nic James, Alan Taylor, 32 Tim Caudrillier, Angelo Esposito, Rajinder Chima, Azid Sohoye; 31 Terry Allen, 30 David Kennedy-Moffat, Perry Grosvenor, Colin Greenlees; 27 Kevin Bowe, 25 Kate Evans, Brian Rothwell, 24 Sal Muhammad, Paul Mayne.
Final leaderboard
(After six rounds* - best two scores to count):
75 Eugene O'Sullivan (h'cap 19, St Neots) 26, 40, 35, 29
74 Michael Varley (15, Allerthorpe Park) 30, 35, 38, 36
73 Nic James (The Gower, 7) 35, 38, 34
70 Alan Taylor (14, The Vale) 26, 36, 28, 34
69 Terry Allen (21 Mentmore) 27, 38, 31
68 Chris Biggs (11, Cosby) 29, 31, 37
*Round 5 at Blacknest GC was abandonned because of waterlogged greens.