I'm advised on good authority that women golfers don't regard the game in the same way as men.
While some are competitive with a winning determination, many perceive golf as a social outing to meet their friends at a regular time each week, show off their latest outfits and discuss topics way beyond the comprehension of most husbands and boyfriends.
And who can argue with that. Golf is a healthy activity to be enjoyed and shouldn't stress everyone, just because the male of the species can tend to take it very seriously.
However, I recall my secretary on one of the golf magazines I formerly edited, telling me how irritated she used to get with fellow women golfers, who didn't take the game seriously enough on her Tuesday afternoon off.
"I'm trying to hang on to my 18 handicap," she said "while some are chattering away, leaving the contents of their handbag on almost every tee – a lipstick here, a hair brush there. Drives me mad."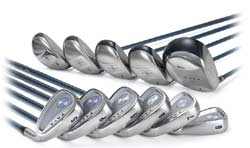 Tava irons and woods must be won




She didn't want my sympathy, only my understanding that there are at least two types of women golfers – the competitive and social – and sometimes they just don't mix.

At my own course there's a thriving women's section who turn out in all weathers, dressed immaculately in co-ordinated outfits and often in waterproofs. Golf is their bi-weekly fix and they love it. They play at a brisk pace and woebetide anyone who gets in their way.

The reason I'm sharing my experiences is to advise our hardcore of Golfmagic women followers that we are conducting a survey and would greatly appreciate your co-operation.

We are wondering whether there's an opportunity to spread Golfmagic's wings to provide a separate service aimed at women golfers, whatever their skill standard. But first we need to know a little more about you and what would attract you to log on to a site specifically for your tastes.

For example would you want to see reviews of women's golf products and submit some yourselves? Would specifically targeted instruction appeal? A women-only forum discussing appropriate topics, perhaps? Course reviews from a woman's perspective could also be added to the agenda.

It's a simple survey with loads of tick boxes and at the end of it we'll put all the participants in an electronic 'hat' for the chance to win a set of the latest Mizuno TAVA irons, due to be released in January.

The clubs, aimed at those with slower swings and with a wider gap between loft, range from a 14-degree driver, a choice of four fairway metals, two utility clubs and six irons (6-PW) and are worth over £600.

Thank you in anticipation. We look forward to hearing from you and your golfing friends, so email them with the link, too.