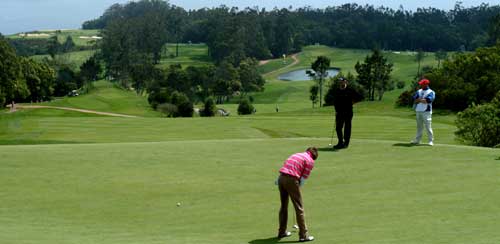 Madeira' demanding Santo da Serra course
It's a common task for all of us to carry or pull our bags or wheel our electric trolley during a medal round, then consult our yardage chart or even our GPS calculator. And as if the game wasn't difficult enough we then have to hit the ball, walk after it and try to eventually get it into the hole in the least possible strokes, not to mention the added pressure of keeping a card going.
I often wonder just how strokes a good caddie would save us - not only by reducing the physical strain of bag carrying but more appropriately to help us make the right decisions in terms of course management.
To those competing in the US Masters this week, where caddies stand out more than any other tournament with their traditional white overalls and green numbers (identifying in which order players register), they are invaluable.
But if you or I were to have a professional caddie would he or she save us two or three shots a round or maybe 10 or a dozen, if we were a higher handicapper without much strokeplay competition experience?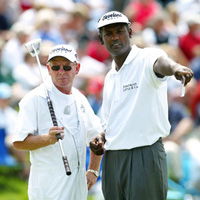 Dave Renwick won the US Masters on Vijay Singh's bag




To a professional and good caddie is vital, as I discovered on a recent visit to Madeira where I watched the European Tour event there, eventually won by Alistair Forsyth, who had Dave Renwick - twice a US Masters winner (with Vijay Singh and Jose Maria Olazabal) and once a US PGA winner (Steve Elkington) - on his bag.

The Madeira Islands Open was the first tournament back in Europe after its worldwide travels - an event with a relatively small prize fund and which attracted only a handful of the higher ranked players. But it provided a rare opportunity for those who finished down the pecking order last year either on the main tour, the Challenge Tour or at the Qualifying School, to improve their status and ranking points.

One problem, however, for many of the players in the lower exemption categories is that their budgets are so tight, they simply can't afford the £400 -£500 it costs per week to employ a professional caddie, even on a one off basis.

In the first two rounds, players were permitted to carry their own bags or pull a trolley - among them Robert Rock who has finished high in events on Tour in the past. This was demanding both physically and mentally on such a gruelling terrain as Santo da Serra, made even more difficult by windy and wet conditions and where elevation drops by about 900 feet!

The other option is to employ a local volunteer to carry the bag, clean the odd ball and club, but contribute little else. This might ease the physical effort, but the pro is still calculating his own yardages, selecting his clubs, raking the bunkers, replacing divots and sorting out his umbrella and waterproofs.




Andrew Willey




Andrew Willey, from Ramsdale in Nottinghamshire, playing his Tour event (apart from once qualifying for The Open), told me he was allocated a lad who had never set foot on a golf course before.

"He had no idea where to go or where to stand, let alone what to do. To make matters worse his phone rang on one hole, and to compound matters – he answered it!" he said.

Andy admitted he immediately felt embarrassed and guilty in front of his playing partners and became anxious as to what else might happen.

Fortunately he was spared a roasting from Tour officials and managed to get a slightly more suitable replacement for the second round, though it didn't prevent him (or Rock) missing the cut by four shots.

Credit then to Gary Clark, forced to employ a local bag carrier for the week, yet still able to claim third place money on a thrilling final round.

What might have happened had he been able to have had the funds to employ a professional bagman like Forsyth and Hennie Otto, the two players who contested the play-off?

It's a real a Catch 22 situation for players in the lower reaches of the tour – you can't afford a caddie, but can you afford not to have one?

Tell us on the forum if you've ever employed an experienced caddie for a special round. Did it make a difference or are you better served with your own counsel? How many strokes would you save with a knowledgeable bagman - or 'bag-woman'?