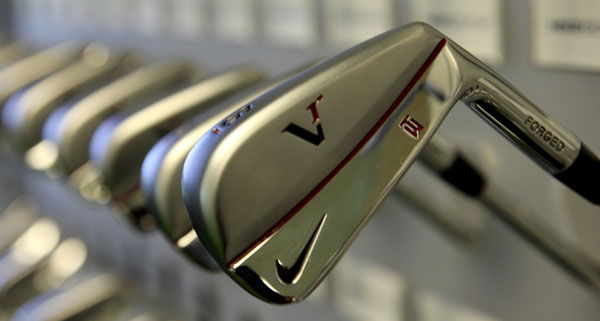 Nike Victory Red forged irons made exclusively for Tiger Woods
Nick Bayly continues his stroll behind the scenes at The Oven, Nike Golf's multi-million dollar club and ball headquarters for research and development near Dallas, Texas. In the second part of his article he reveals which top players are helping in club development and asks the chief designer what innovation we might see in the future.
Winning tournaments is vital for Nike Golf, as it is for any golf company. But that only comes about through getting their winning players closely involved with developing the tools of their trade, something that Nike has championed from the very start.

td>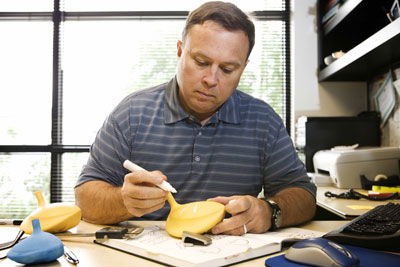 Tom Stites working on Nike's latest designs




As Tom Stites, Nike Golf's director of product creation for clubs, tells me: "We all take pride in the product and innovation we've achieved and how our Tour players perform, but what I'm most proud of is how those same players come here and talk to me about their clubs and what they see from regular golfers using our equipment. They're a valuable resource and they're as passionate about this as we are."

Not surprisingly, Tiger Woods, has been a constant force in the evolution of Nike Golf equipment. Other players have also played significant roles in developing their own gear, which then feeds down the chain.

"Paul Casey comes in quite often just to hang out, discuss variations and try new set ups," says Stites. "In terms of specific products, the Nike SasQuatch driver involved Tiger and the entire Tour staff, while the original Pro Combo irons were designed with strong input from David Duval.

"This year, Paul has been instrumental in the launch of the Nike Method putter, while Stewart [Cink] has also been a key player in club development. He spends a lot of time hitting prototypes and understands the technology. The feedback he gives us not only allows us to make his clubs better but other people's clubs better, too."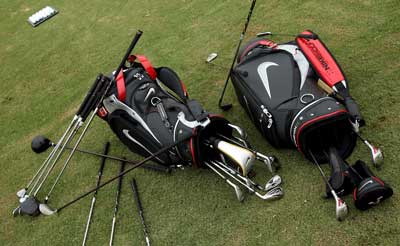 The latest batch of 2010 Nike clubs being tested on the range




Warming to his theme, Stites adds: "We may not turn out equipment quite as fast as some of our competitors, but we think that is to our advantage. We have always adopted a patient approach, and we won't let anything come out of here until we know it's going to work for our players, and for all of our customers.

"We don't want numbers; we want winners, and that's what we've managed to do, which is pretty impressive since we've only had a full range of equipment to give our players for the last three or four years."

Once a product is ready to be hit , it is taken over to the test facility, a standalone building that features three bays looking out over a 300-yard driving range. One bay is hidden behind lock and key, where a robotic driving machine - Nike's version of the original 'Iron Byron' - tests equipment yet to be exposed to public gaze, while other bays host Nike testing staff and visiting players taking advantage of superb custom-fitting facilties.

Behind the test centre is a new putting laboratory, where multiple high-speed cameras measure a player's putting stroke and evaluate the roll and skid of the ball off the putter face.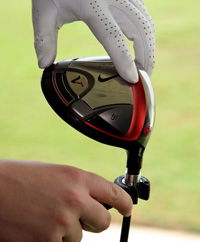 One of Nike's latest innovations, the adjustable head on the Victory Red driver




Nike also uses it 'Oven' facilities for ball testing, identifying launch parameters, tracking trajectory and measuring carry, roll and dispersion to ensure that the balls they make work in harmony with its clubs.

It's clear to see from my stroll around the facility that Nike Golf leaves no stone unturned in its pursuit of golfing excellence. But I can't help wondering if there are any truly major breakthroughs to be made in the physics of the golf club.

Stites just grins when he says: "It's fair to say that we are making small, but important steps these days, rather than the giant leaps of years gone by, but when one shot can mean the difference between winning a tournament and losing it, anything that can be done to get an extra yard from a driver, or more control from a wedge or smoother roll from a putter, is worth doing."