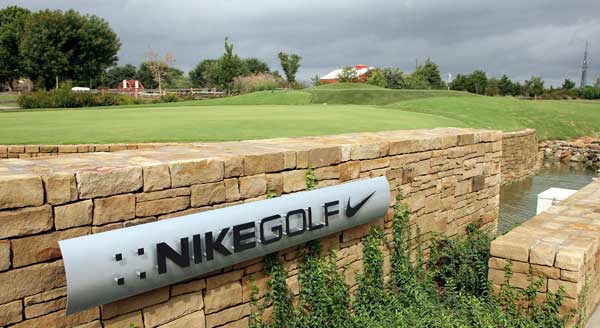 Entrance to Nike's understated design facility
Nick Bayly goes behind the scenes at The Oven, Nike Golf's multi-million dollar club and ball research and development headquarters in Texas, to see where Tiger and friends get their clubs made and fitted.
TURNING off the freeway some 20 miles west of Dallas, looking for Nike Golf's research and development headquarters, don't expect a 60-foot neon 'swoosh' to mark the entrance. Only a six-inch high plaque, identifies this nondescript, low-slung, grey bunker as the nerve centre of one of the game's richest brands.
There's no barbed-wire fence to keep out unwanted intruders, no snipers on the roof (at least not that I could see!), no heavily armed security men with microphones up their sleeve. In fact, the only sign of human life is an assortment of cars in the staff 'parking lot'.
To most observers this kind of low-brow obscurity goes against the grain of a company whose recognition as a global brand is up there alongside Microsoft and McDonald's, but that's not how they do things in understated Fort Worth. Although it's far removed from the gleaming towers of corporate America, it would be wrong to think I'm on a pilgrimage to the backwoods.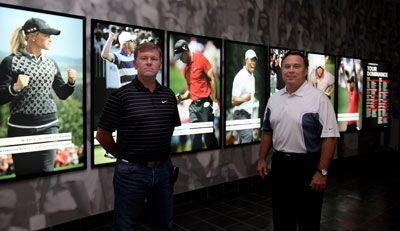 Nike's Kel Devlin and Tom Stites with recent Nike winners




Once I stepped through the door marked 'The Oven', it felt as though I might be entering into another dimension. Welcome to Planet Nike Golf – a place where everything is possible.


The Oven is where Nike Golf designs, tests, and builds the prototype golf clubs and balls their Tour players use, including World No.1 Tiger Woods. They also make the final versions that are sent out to be mass-produced and sold to consumers.

As with all technology-based industries, research and development is what drives the golf business with its constant demand for ways to make it easier for us to get the ball in the hole. Nike Golf has been at the forefront of R&D since it began producing golf equipment for normal golfers like you and me in 2002. And this massive 50,000 square foot facility is the living embodiment of what the company is all about in 2010 and beyond.

It's here, in the heat and dust of Texas, that Tom Stites, Nike Golf's director of product creation for clubs, and his crack team of equipment creators and engineers, design the clubs used by Tiger Woods and the ever-growing international roster of Nike players, including Open champions Stewart Cink and Justin Leonard, former Masters winner Trevor Immelman and England's Paul Casey.

The huge sums spent on this state-of-the-art production and test facility is at the core of the Nike brand – creating products that benefit the athlete and the average golfer which are measurably better than what came before. The increments maybe getting smaller – a yard or two more distance here, a more stable head or a slightly more consistent shaft there – but they all add up to significant advances in golf technology.

As Nike Golf's head of sports marketing, Kel Devlin, told me: "It's essential we provide our design teams with the resources they need to turn out superior products. The wealth of club knowledge that we have under this roof is incredible. Apart from being a place to develop new ideas and new products, 'The Oven' is also designed to be a 'home from home' for our Tour players from around the world.

"The added advantage of sharing the same space for the development of new designs with the servicing of our players is capturing their input and applying it to clubs and balls that will eventually be introduced to the average golfer."

Facilities at 'The Oven', which has already undergone a series of expansions in its seven-year history, are undeniably impressive. Most recent addition is a 130,000-square foot short game practice area that includes three synthetic greens, one grass green, a myriad of bunkers, water features and several practice holes on which Nike's engineers and Tour players test out their prototypes. The rough around the greens even features three different types of grass, to simulate the variety of conditions that players might face in tournaments around the world.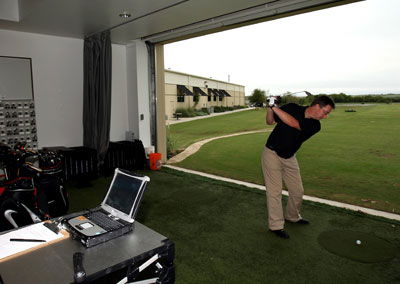 Nick Bayly at the state-of the art practice facility





Back inside the vast entrance lobby is a celebration of all things Swoosh, including a 'wall of fame' featuring six-foot high images of recent Tour winners - Simon Dyson, Stewart Cink, Suzanne Pettersen, Paul Casey and, of course, several of Tiger. Adjacent is a mini museum of Perspex display cases charting Nike Golf's rise from humble beginnings back in 2000, when Tiger alone was on the payroll, to the dizzy heights of 2009, when Nike banked four major wins in two years (Cink, Lucas Glover, Woods and Immelman) - more than any other brand. Tiger's first pair of Nike shoes (complete with kilties) are also on show alongside 'Frank', his trademark Tiger headcover and a signed mock turtleneck shirt.

Mounted on the wall opposite is a sample of every model of golf club the company has made. Nike Golf has been around for less than a decade but it's amazing how far and how fast technology has moved on, with the 330cc heads of the first drivers looking more like today's 3-woods compared to the square-shaped 460cc bombers that dominate the far end of the display.

Further into the bowels of 'The Oven' are more secretive areas, including the test labs, where men and women in white coats scrutinise each piece of equipment with microscopic precision. The place is brimming with the latest technology, including robotic simulators testing the impact of ball on club (and club on ball), centre of gravity detectors, groove depth gauges, vibration sensors and audio feedback units, all of which ensure that the clubs we buy not only look and feel good, but sound right, too.

Another room is home to what looks like the world's biggest microwave oven. In reality $40,000 machine might not heat up your supper but will produce replica polymer heads of a prototype club in a matter of hours. By dramatically cutting down the production process it allows changes to head shapes to be made before committing to the more expensive procedure of making steel or titanium prototypes.

The assembly room next door is where Nike technicians determine the proper lie of the club. Traditional club-making involves using a 'loft/lie' machine but Nike's exclusive 'Green Machine' enables the club-maker to build a club to the exact lie angle every time, regardless of who's making it.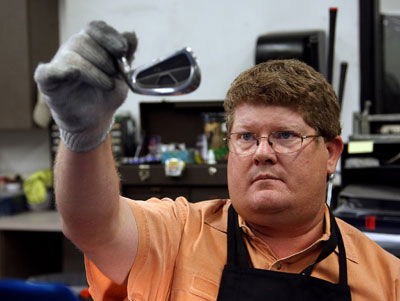 Clubmaker Mike Taylor




No tour of 'The Oven' is complete without meeting celebrated club-maker Mike Taylor, the largely unsung hero who runs Nike Golf's machine workshop and who has made clubs for the best golfers in the world from Ben Hogan to Tiger Woods. His official title is 'Product Engineering Manager', but looking at him hunched over a noisy grinding machine working on Antony Kim's next set of irons, is a reminder that he literally operates at the cutting edge of Nike Golf.

"What I do allows me to come in to work every day, take a block of steel and make something out of it," he tells me.

Watching Mike working on a wedge is like watching a concert violinist playing a Stradivarius – a true master of his craft. No two clubs are the same for Tour players, each having their own preference for head shapes, lofts, lies, sole angles and finish, he says and he knows them all by heart. But just in case his memory should fail him on Monday morning, every player's specifications are stored in vast cabinets close by, with Tiger's stretching to three thick files stuffed with every club he's ever created for arguably the World's greatest player of all time.

As well as working on clubs for Tour pros, Mike is also helping to create prototypes for all future designs.

"At any given time we have more than 100 club projects in various stages of design and development. Having the ability to create a prototype just 40 yards from where we begin testing with Tour pros and average golfers, speeds up our testing and decision-making process. The result is we can bring our newest designs to golfers a lot sooner."

Product development cycles vary hugely, with the time between the initial concept of a design through to hitting the shelves in your pro shop varying from six months to two or three years. For example, Nike is currently working on products to be launched in 2013. It surely underlines just how far ahead of the game they have to be thinking.

Part Two: The important role Tour pros play in design of the next generation of Nike clubs