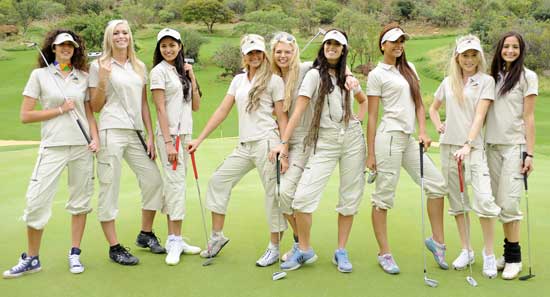 Some of the Miss World contestants had a putting lesson
The 'Extreme 19th' hole at the shortly to be opened Legend Golf and Safari Resort in South Africa, the world's most exhilarating par-3. That's the claim made by the creators of this breathtaking challenge, played from the top of Hanglip Mountain in the Entabeni Safari Conservancy in the Limpopo region.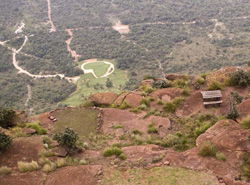 Extreme 19 from the tee with the green below




A handful of Miss World contestants tackled the incredible hole from which shots are played from a tee 360 metres above the jungle and which can only be reached by mountaineers or by helicopter!

Only two golfers have ever been able to land a the ball on the green shaped and contoured like the African continent and it was no surprise that the girl contestants from England, Scotland, Germany, Paraguay and South Vietnam.

All 112 contestants were earlier put through their paces with a putting lesson from David Riddle, director of golf at the resort, with five of the most competent given the opportunity to fly up to the tee.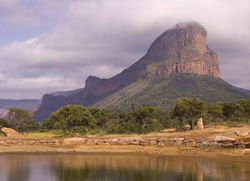 Hanglip Mountain




Among them were England's Laura Coleman, who has previously worked at Stapleford Park GC, and Scot Stephanie Willemse but both efforts finished in the jungle far below. All 112 Miss World contestants have spent six days at the Legend Golf & Safari Resort at Entabeni, learning a variety of tracking and ranger safari skills as well as brushing up on their golf game.

Coleman said: "It was an amazing experience to play the hole. Taking a a helicopter to the tee was incredible. The green looks like a tiny speck.

Willemse added: "It was a once in a lifetime experience."

The Legend Golf & Safari Resort is the ultimate golf challenge where each of the 18 holes has been designed by and named after one of the world's leading players, including Padraig Harrington, Colin Montgomerie, Justin Rose, Luke Donald, Ian Woosnam and Sergio Garcia. The course is due to open for play in March 2009.

Tell us one the forum which is the most unusual par-3 hole you have played.