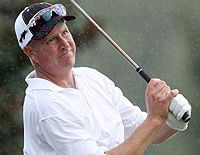 J P Hayes - called penalty on himself
In no other sport do the competitors have such a high standard of integrity than in golf. It is still regarded as the bastion of good sportsmanship and the only game where you can call a penalty on yourself.
There are no referees waving yellow and red cards, nor officials checking TV replays - apart from when Tiger Woods loses a ball in a clubhouse!
The sport's history is riddled with incidents of good sportsmanship - Nicklaus conceding a putt to Jacklin in the Ryder Cup, Harrington failing to sign a scorecard card when in a winning position - and the latest 'good guy' is US PGA Tour golfer J.P. Hayes from El Paso, California.
Competing in the second stage of the PGA Tour Qualifying School in an attempt to regain his Tour Card for 2009, Hayes first discovered during a round that his caddie had handed him a different model of the Titleist ball that he had started the round with. The one-ball rule is in effect for these competitions and means that a player cannot switch models during a round. So he accepted a two-stroke penalty and still felt he might have a chance to make it to final qualifying.
However, Hayes discovered after the round that the ball in question wasn't just the wrong model as he first thought. Instead, it was a model that was not yet on the approved list of the United States Golf Association. Though no one else would ever have known about the error, Hayes reported the fact to officials and disqualified himself. The price for his honesty was losing his chance to get back on the PGA Tour.
"It was a Titleist prototype, and some how it got into my bag," said Hayes, admitting he had tested some of the newer balls a month earlier and one remained in his golf bag.
Apparently the rule was introduced when it was discovered that some professionals would switch to Surlyn-covered balls when playing some long par-3s on tournament courses, because these balls were a little longer with lower trajectories.
Famously Seve Ballesteros and Paul Azinger clashed in the Ryder Cup, when Azinger's partner Chip Beck switched to a different model and compression of ball during the foursomes at Kiawah Island.
We amateurs can use whatever models of balls we want in our regular rounds since the one-ball rule is used only in high level of competition but it still begs the question: Have you ever called a penalty on yourself and what was the outcome? Tell us on the forum.