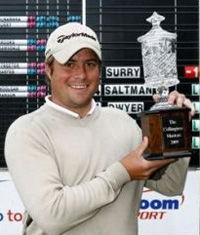 Steve Surry won the first Euro Pro Tour event of 2009
 Steve Surry, 27-year-old professional from Cumberwell Park in Wiltshire has qualified for the Open Championship at Turnberry this week after shooting a course record 66 in Final Qualifying at Western Gailes. It's his first time in a major.
A group of family and friends, including his mum Mary - a regular contributor to the Golfmagic forum - will be supporting him this week and in the first of his personal diary articles, he describes the exciting build-up to his Open debut tomorrow (Thursday).
I PUT MY name down on the unofficial start sheet today (Tuesday) to play a practice round with Padraig Harrington and Paul McGinley but when it came to it I decided that I'd be watching them and what they're doing rather than concentrating on my own game.
So I backed out and played on my own a bit later. I didn't mind because I'd already played two practice rounds - one of them with the Ryder Cup player David Howell, whose caddie Nick Mumford is a scratch member of my local club. David's a really nice guy and very funny. It was a really relaxed round and I learned a lot.
The main thing about playing the Ailsa course at Turnberry is to hit it straight. The rough is really penal - whispy, tall stuff though patchy in places - and once you get in there you're hacking out with 7- or 8-iron.
I only lost one ball today on the 13th where three marshals couldn't even find it!
I'm getting used to signing autographs although I got a telling off from one young Scots lad. When I was playing with David he asked me for my autograph and naturally, feeling a bit embarrassed, I said 'you don't want my autograph, surely?' He said: 'That's not the right attitude, if you're playing in The Open, I want your autograph.' So it was a bit weird being told off by a 12-year-old!
I could probably fill a garage with what I've been offered by various club manufacturers this week, who all seem to want their equipment to be seen by those of us playing in The Open.
But although I've played some TaylorMade clubs in the past, I'm sticking with Callaway this week.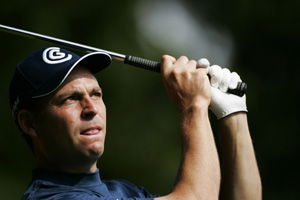 David Howell - Steve's practice partner
I haven't decided which of the two Callaway FT-9 drivers I'm going with but have picked up a new Callaway Diablo 13-degree fairway metal and added a Callaway X-Tour hybrid so that I've got 18 and 22 degree lofts. I'm also using Callaway X-Forged irons (5-iron to pitching wedge) and Callaway X-Forged wedges (55-degree sand iron and 60 degree lob wedge). My putter's an Odyssey XG No.7 with a belly shaft. I've used a belly putter for about six years.
I'm playing a Titleist Pro V1x ball because it generates less spin off the driver and works better in the wind.
All week, I've tended to keep myself to myself along with my caddie Harry Bird - who's only 18 - and my coach Ben Lloyd because I really want to focus on making the cut on Friday night and not get too wrapped up with the occasion.
But I'm determined to get Tiger's autograph. I was on the range, with him about 20 yards away today and I couldn't help but notice how calm and focussed he was. We saw him later in the locker room and I thought about asking him then but he disappeared.
Other guys I've spoken to say he's quite relaxed about having his picture taken with other players so hopefully Harry and I will get him tomorrow.
My tee-time isn't until 4.21 on Thursday so I'll have almost a whole day to kill which will be difficult when I'm excited and anxious to get started. So I'll probably hang out at the house we've rented in Ayr and watch the earlier starters on the TV and then head out to warm up and meet my playing partners Terry Pilkadaris from Australia and Koumei Oda from Japan.
I'll be nervous but I know I've got a lot of support - especially from those on the Golfmagic forum - and will do the best I possibly can to make everyone proud.
*Interview by Bob Warters.