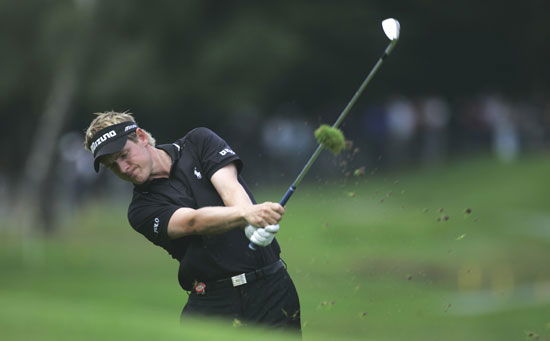 Donald is back hitting full wedges
Mizuno golfer and RBS ambassador Luke Donald is set to make his long-awaited return from wrist surgery at the Nedbank Golf Challenge at Sun City's Gary Player Country Club in South Africa in December.
I ABSOLUTELY believe I'll be ready to play and compete in the Nedbank Challenge. November 3 was 12 weeks from my surgery and I began hitting full shots again that day. I started with full wedges and every day since then I've been building up club by club. There's no pain; no soreness, and everything feels very good. It might take a bit of adjusting mentally after being out for five months – I've never had a break from competitive golf for this long before. Every week of my got harder and harder as I watched the Olympics and then the Ryder Cup on television but despite the frustration of such a long layoff, it hasn't got me down. I'm confident I'll be as good as new.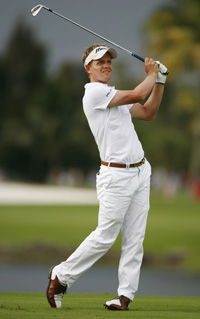 Luke will be back in tournament action soon at the Nedbank Challenge in December




I started putting just over a month ago, and I have progressed from light chipping from the edge of the green to full wedges. My goal now is to also play in Tiger's event in later December.

After the operation I had to rest the wrist for six weeks, then start a six-week course of rehab, which included some general massage to break up the scar tissue and stretching exercises to regain my range of motion. I'm building it up each day.

During my downtime I've been fortunate to spend some time in England with my family, work on a couple of paintings and generally re-charge the batteries.

The break has not been so gruelling as I'd imagined and I've tried to use the time positively, rather than dwell on the fact that I was injured. I've obviously had a little more time to enjoy my wine and I've done a few things to help promote that.

To be honest, it's going even better than I thought, getting some good reviews and selling out quickly. I can't wait for the Chardonnay from Carneros to come out next April, it's going be amazing!

When I return to play, I will have a renewed respect for the game and, of course, be well rested and ready to go.

I watched most of the Ryder Cup, of course, as it's an event I love and to miss this year's match was one of the hardest parts of my injury but hats off to the US team, they played well and holed the putts when they needed to. They also found that spark that they had lost for the past couple of Ryder Cups and while we played with heart and desire, the US were just too strong.

It has reinvigorated the Ryder Cup I can't wait to and help the Europeans win back it back in Wales in 2010.

I've not contemplated any change in Mizuno equipment as yet, but they have sent me a few new prototypes to look at from an aesthetic point of view and I will keep you posted.

Tell us on the forum if you have ever recovered from long term injury like Luke, to play golf again and how you managed your rehabilitation. Indeed were you ever the same player again - or better?