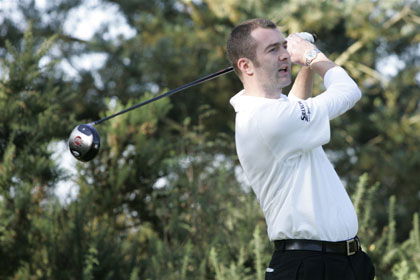 Ian Davidson
Engineer Ian Davidson (28), is a five handicap member of Newcastle Golf Club and recently represented the Golfmagic.com forum in the Single Figure Golf Cup against a team of golfing legends at Woodhall Spa, headquarters of the English Golf Union. The team of single-figure handicap amateurs was captained by former Walker Cup captain Peter McEvoy while the internationals included Ryder Cup heroes Phillip Walton and Paul Way, European Tour winners Roger Chapman, Steve Richardson, Gordon Brand Jr and Jim Payne and Solheim Cup captain and former US Women's Open winner Alison Nicholas.
I WAS naturally nervous on DAY ONE as I arrived at the Woodhall Spa clubhouse after a long drive from Newcastle - not helped by meeting a couple of fellow SFG team members whose facial expressions mirrored my own sort of exited trepidation. I was then introduced our internationally renowned opponents who were effectively my golfing heroes as a kid, including faces I'd only previous seen on TV in the Ryder Cup and Tour and others including the amateur legend Gary Wolstenholme.
All were a great bunch all involved in the usual sort of clubhouse banter before a monthly medal. The only difference was that while the SFG teasm were playing off our handicaps the internationals would be off +4. Can't remember the last time I've had nine shots in matchplay!
After warming up on the range I seemed to be hitting it OK so with nerves calmedI joined the assembled golfers on the putting green awaiting the first of the fourballs matches and a procession of 3-woods and long irons ripped down the fairway of the Hotchkin course in a fireworks display of fades, draws and laser straight golf shots.
Only two exceptions. Step up former Brazil Open winner Chapman, who played in 617 Tour events and who settled everyone's nerves by blocking one OB. Then, watched by our Irish opponents John McHenry and the afore-mentioned Walton, I managed to top one 60 yards into rough! Fortunately my partner Fred Clatworthy, who earned his place through a similar qualifying competition in Golf Monthly, managed a regulation par to get us off to a solid start.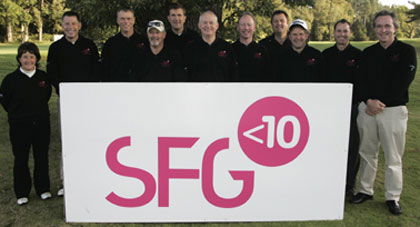 The all stars team littered with internationals and Ryder Cup players




Woodall Spa is a great venue - and for anyone that hasn't been there I'd recommend it but as I found when my ball gently rolled into a greenside bunker on the second, it takes no prisoners.

By the 7th we were 2 up thanks to some good driving and iron play and good yardages and club selection from our girl caddies, who pointed us away from hidden dangers. Around the turn, however, the pros threw in a string of six birdies when I discovered their ability to hole important putts. Every time there was a tester for a win it was drained, every time there was any putt for a half, expect the same. Suffice to say that by the 15th Fred and I were punch drunk though we kept up our spirits before finally succumbing on the 17th.

With the match ended, something changed. Titbits of advice were thrown around, drivers were drilled off the fairway and laughter broke out. It turns out that during the round, these pros were trying? And this back-handed compliment shone a whole new light on what to expect tomorrow.

Later Peter McEvoy started the night's entertainment with a fascinating team talk, sprinkled with anecdotes, stories, choices a captain has to make, why we must trust our partners and how to handle pressure and nerves.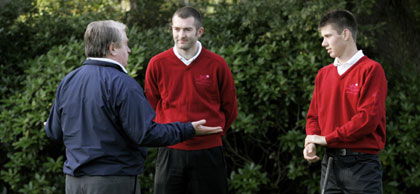 McEvoy's advice for Davidson (centre) and Carson




He said: "Nerves are the only reason you practise – so you must get good enough to put yourself in nervous situations. Once you're there, enjoy every minute. The reason we spend months holing four-footers on the practise green is for that one time when you're standing on the 18th with a four-footer to win. You'd better savour the moment!"

During the evening more stories circulated from the all-star team about their mis-adventures on tour, with Ricky Willison reminiscing about having to break into the Open because nobody would believe he was a player. Wolstenholme also revealed more about his Walker Cup match in which he beat Tiger Woods at Royal Porthcawl, before McEvoy interjected that the only reason he won was because Tiger's caddy handed him a 7-iron instead of an 8-iron - and he hit it into trouble!

At the start of DAY TWO the putting green was invaded, with kudos going to one pro who practised chipping over the 'no chipping' sign!

Thankfully my foursomes partner Adam Carson who plays off +1 and for the England Youth team, offered to tee off on the first! And when the captain informed him in no uncertain terms that the lowest handicapper would take the lead in the decision making, in our match against Willison and Wolstenholme, it settled me even more.

Playing Adam's perfect tee shot I stuck a 9-iron to seven feet (both teams lipped out for birdie) so we were off and running and made progress by using our shots Adam's great driving, and the captain's putting advice ringing in our ears.

One up at the turn, we never missed a fairway from the tee and managed to keep the pressure up and with a majestic 2-iron by Adam to the fringe of the 14th, we went two-up and were attracting a bit of a crowd.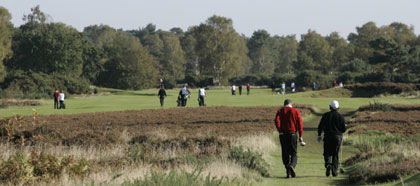 Davidson (left) marches down the sixth hole with Ricky Willison




It looked like we could win it on the 17th if we managed a half and again Adam struck another drive into the heart of the fairway and left me with about 145 to the pin.

I looked at my caddy and he already had an 8-iron in his hand. I then hit it out of the sweet spot but short-sided Adam pin-high in a 12 foot deep bunker with six feet of downhill green to play with. All the way up the fairway our opponents, who were safely on the green, were digging our ribs about whether we could handle the pressure down 18.

Adam had other ideas, and after barely a practice swing, flopped his bunker shot inches over the edge of the cliff face and listened for the outcome. A proper golf shot if ever I've seen one, confirmed by a spluttered 'amazing shot' by a wide-eyed Willison. I felt a real sense of achievement as I rolled in the four-footer to claim the match 2&1.

As we walked of the green I was greeted by a fellow SFG team member who reminded me: "Do you realise, you've just beaten the man who beat Tiger?" Later, I received a text message from my brother asking what I was up to. I sent him back: "Jst bt Ricky Willison & Gary Wolstenholme 2&1."

With the score now at 6.5 – 3.5 in favour of the all stars team, I was matched against McHenry against - this time in singles and I struck the mis-behaving 3-wood plum down the first hole, with a nice high draw – just far enough to reach the bunker that had scared everyone away from using driver! It soon became pretty clear that I was going to have to rely on my shots and squared the match on the second, despite John holing a great 30-foot putt that he thought was for a half.

It was a great battle from then on and John was good company. We were all square at the turn when I noticed most matches were close. As we walked off 15 still tied after we both bunkered our approaches, I shouted across to Peter McEvoy to ask what the match score was: "Just make sure you win!" didn't really answer my question.

I was a bit concerned that the crowds had seemed to dissolve around the course by the time we reached the 17th tee when I held a slender one hole lead. We still had an interest with a crowd around us but I got the feeling they knew something about the match score that I didn't want to hear.

I plumped for a 3-wood for my tee shot but instead of a high draw, the ball slammed into a tree 80 yards ahead which finished on a cinder path.

With John having split the fairway with his rescue club, 20 yards ahead of the ladies tee wasn't really the place for me to get a good yardage. Do I have a shot to the green? No. If I lay up and play for bogey will I likely get a half? No. Can I lay up anywhere and leave an easy shot to the pin? No. Okay, 3-wood it is, then. As the groups behind had finished and caught up, I was surrounded by spectators and could just imagine the sort of view you get on the TV as Sergio checks his backswing to make sure nobody was in the way.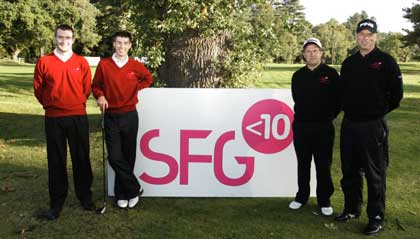 Davison and Carson with Willison and Wolstenholme




This turned out to be one of those shots that instantly burns itself into your long term brain, as it swerved around the tree in my direct line to the green, landed on the left edge and stuck. I can take two things from this shot – the joy from hearing someone gasp when you hit a pearler and conclusive proof that adrenaline makes you hit a golf ball further!

In reply, John hit his shot big and got a heavy punishment for a tiny misjudgement. I managed to two- putt to finish it on the 17th. Looks like I get to send another text!

We all walked down the 18th but I wasn't really sure how I felt. I was delighted to have had such good results (two wins, one defeat) but I knew the all-stars had won the trophy 14.5-5.5. However, I was excited about all free beers my stories would earn me and the fact that I had a framed action photo a a caddy bib with my name on it, as a souvenir.

Currently the road to the next SFG Challenge Cup is under construction but the guys have loads of great ideas and would welcome any feedback or ideas at their website. I'd whole-heartedly encourage everybody to get involved, motivation in itself to get to 9.4 and and attempt to qualifying for the proposed 2009 match. I can promise you it's not just a corporate get together – it's a competition. My personal thanks to Golfmagic.com and to SFG for the opportunity of a lifetime.

For the full scores and match-by-match reports visit www.singlefiguregolfer..co.uk