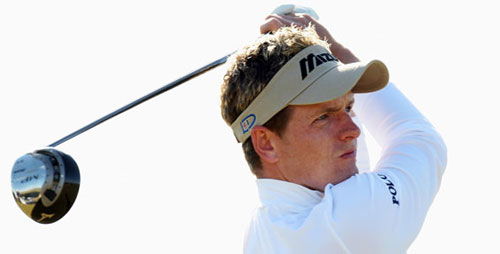 Donald using the latest Mizuno MP-600 driver
I'm in Qatar this week on the second half of my two weeks in the Middle East having competed in Abu Dhabi. It's quite a contrast to the Christmas I spent in chilly Chicago with my wife Diane and her parents.
I'm currently working on some swing changes with my coach Pat Goss, with whom I was in Florida recently. I'm working hard on getting my timing right between my upper and lower body.
I tend to get the club a little bit shut and laid off on the backswing. In order to get it back on line, I have to work my hips really fast. If I do it too fast the club still gets a little bit behind me and stuck. I either hit a shot that starts a little bit left and goes left or it comes out as a high block.
They're my bad shots. It's a case of trying to get the arms and legs working together better on the downswing and be a little bit more solid through impact. I've been working on getting the swing plane more upright and the club more square and on line at the top. Until I achieve that I can't work on what happens on the way down!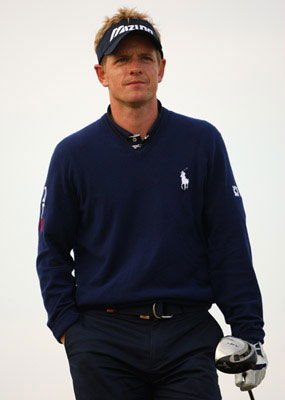 Luke is working towards a successful return to the US Masters




Another big change this year is ending my five-year working relationship with my mental coach Jim Fannin. We have worked together since 2003 and he's been very helpful, raising my expectations, getting me thinking more positively and turning me into a top-ranking player. I owe him a lot but sometimes relationships get a bit stale and I felt it was time to try something different.

So for the first few months of this year anyway, I'll be going it alone, although I'll still be getting a lot of good advice from Pat, my brother and my wife, of course!

My prime target this year is to get back into the world's top ten. I was encouraged by my performance in Abu Dhabi, and I'm looking forward to doing well in Qatar, which is a new stop for me. I played in Dubai when I was a 17-year-old amateur and was tempted to include the Dubai Classic event but have decided two weeks is long enough in the desert.

My decision to play Abu Dhabi and Qatar has the Ryder Cup in mind. It would be nice to get a win or some strong finishes in the right events. But I want to give myself a chance to qualify via both systems - the world rankings and the European Tour order of merit.

I'll play maybe six to eight events on the European Tour, as well as the majors and WGCs. It's hard to juggle both Tours and almost impossible to play 50-50, so I have to play a little bit more in the US. I'll be trying very hard to do well in the Fedex Cup and next year in Europe's Race to Dubai moneylist.

Hats off to the European Tour for trying to better the players' lots and competing with the Fedex. If I play 13 or 14 events, hopefully I'll be part of the Race to Dubai.

My schedule leading up to the US Masters this year is a couple of weeks off after the Middle East and then I start back in Lost Angeles, followed the Accenture Matchplay, the Honda Classic, another week off then Bay Hill Doral and Augusta.

For the last six months of 2007 I hit too many poor shots because my swing was a little bit off kilter. So I'm going to be working hard on getting my swing fundamentally more solid and consistent. You play any tournament with good shots and with confidence and you're going to do well. Augusta's no different.

I know I've got the best equipment - especially after my visit to the Mizuno factory in Japan at the end of 2007. It's great to know there are so many people putting in so much time and effort on my behalf. If I can play well and beat some of those top players over the next few months, hopefully I can shoot back up the rankings and further justify their faith in me.