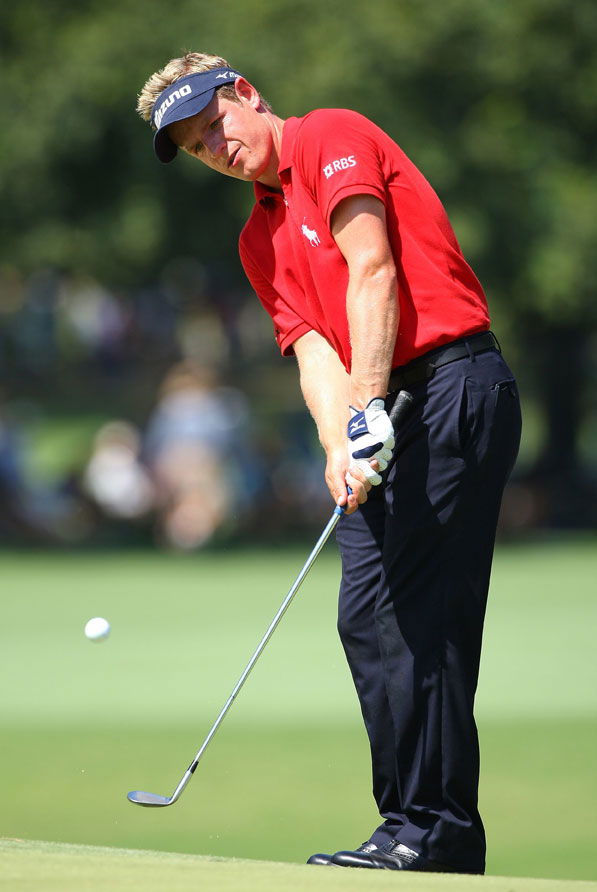 Luke Donald
After a disappointing US Masters I'm having a few days at home in High Wycombe with my Mum and Dad (Colin and Ann) before heading back to the US for the Byron Nelson and the Players Championship and eventually the US open in June.
I've given myself plenty to think about in the weeks ahead after missing the cut at Augusta by a stroke.
The strange - and often positive - thing about golf is that sometimes you learn more from failing than from succeeding. I'm not the kind of person to ignore the lessons I have learned and I always emphasise the positives, of which there were many for me at Augusta.
I had put in a lot of hard work in the couple of weeks before the tournament but what really let me down was that I didn't have full control of my driving and my irons - annoying given that I had worked hard on those aspects of my game. But sometimes things just don't go your way.
I'm not using that as an excuse but I did have an interrupted preparation. My coach, Pat Goss, recently suffered the tragic loss of his mother, who died a few weeks before the Masters, and wasn't able to do as much work with him as I would have liked before we eventually met up at Augusta.
It says a lot for Pat that he was able to cope with his terrible loss and we started on the Tuesday, I still had a few things to work on and that's not always helpful during a tournament. I was not entirely comfortable with my swing.
I was happy to have family and friends around me - my wife Diane, my brother Chris and my mother-in-law and sister-in-law were all there, and I had some friends who had arranged to come and see me at the weekend. I'm just sorry that they didn't get the chance to see me play.
The greens were softer than I expected on those first couple of days, and not as fast as I've seen them but the pin positions on the first day were quite tough.
General opinion was that the course would play long after the rain before the tournament and anyone who was driving well and keeping the ball in play would have a good chance – which is exactly how things turned out.
I was happy to see that I had been drawn to play alongside the 2007 champion Zach Johnson and Geoff Ogilvy. I get on well with both guys and enjoyed their company, even if none of us really got going on the Thursday, though Zach played better as the week went on.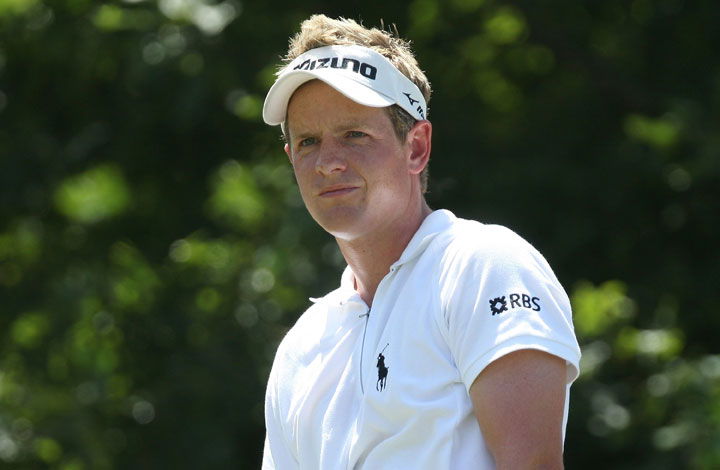 Luke Donald - at the Augusta Masters
I started in great fashion - three under par after six holes - but was trying to keep a level head because this was my fourth Masters and I have seen how up and down a tournament it can be and I didn't want to get too far ahead of myself.
The point was duly proved when I gave shots back at seven and nine. I got decent birdies on 13 and 15, but the real turning point was taking five at the par-3 16th where I pulled my 7-iron too much when you have stay on the right and use the bank. I bogeyed the next and finished on one over par - a deflating finish.
I was still in with a shout but on Friday I didn't hit the ball well enough from tee to green (only eight greens in regulation) and you can only scramble so much at Augusta as many have discovered in the past.
Twice I had 85-yarders with lob wedges and ended up taking bogey where I should have made birdie on 13 and on 18 when my ball should have come back down the slope to give me at least a putt for par.
That five on 18 proved costly and I pretty much knew my fate that three over par was going to one too many.
Overall I perhaps concentrated too much too many specific things in my game, which made it difficult for me to play steady golf. I couldn't get a get a rhythm going, and Augusta in recent years has really become a course where you need to drive well, and I didn't do that.
Tiger Woods is an example of this, not that I don't think he'll ever win there again. A few years ago he could get away with things off the tee, but now you really have to drive straight and long and that it makes it harder for him if he is not driving well.
My short game and my putting were good, though I missed a couple on Thursday and my chipping around the greens was excellent, which really kept me going and helped me make a few birdies. If I had made the cut I'm sure I would have put in a couple of better rounds. But I was always playing catch-up and when you are missing the greens, it is almost impossible to get up and down every time.
Trevor Immelman did superbly to win. He had no real form going into the Masters and it was proof that you just never know when a golfer is going to hit a hot streak as he did through four days. He's a really nice guy, very down to earth, and we get on great. He works hard at his game is meticulous about his play. He drove extremely well throughout the week and didn't miss too many shots.
Brandt Snedeker who was up there all week is another good guy, a happy go lucky type with whom I spent some time in Japan last year. He's a different type from Trevor as he is a young, fast player who can freewheel it a bit, relying on his touch and feel for the game. I think we'll hear a lot more about both of them.
Among the European players, Paul Casey and Ian Poulter got off to good starts and Paul kept going to finish 11th alongside Lee Westwood. Padraig Harrington is the model of the player who never gives up and as he was in the group behind us, at one time I could see that he was four over par yet he came back to make the cut and had great finish for fifth place
We will soon be off to Torrey Pines and the US Open, which is a tournament I would love to win on a course where I've had some success. Royal Birkdale and the Open Championship follows soon after, and I'm reminded that it was 1969 when Tony Jacklin was the last Englishman to lift the Claret Jug in England. That's far too long ago, and I'd certainly like to change that statistic.