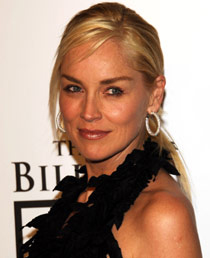 Sharon Stone - A-list actress
Sharon Stone, one of the best known film faces on the planet and star of many Hollywood block-busters including Basic Instinct and Total Recall, has been revealing her love for golf and how it has helped her not only in her career but in life.
The 48-year-old actress, who revealed that she was once the only girl in her high school golf team, told American magazine Golf for Women: "Golf teaches you about life, about humanity, about things that will make you a better person.
"The process and power of golf are extremely healing. When used correctly, golf teaches you all the things you're supposed to do: Stay in the moment, don't carry your anger, be honest and don't talk on the cell phone! I find it offensive when people take their cell phones and BlackBerries on the course."
The A-List actress, who has recently been signed up as ambassador for Christian Dior's anti-aging skin-care line also revealed that golf helped to save her father's life after he was diagnosed with esophageal cancer and given three months to live.
"Dad was a low-handicapper and a beautiful, graceful golfer. My whole family played: my mother, brother, sister. I played a lot with my aunt when I was a kid, when woods were really made of wood. She was an elegant woman, always so chic. I really admired her," Stone told the magazine.

"When Dad had surgery he had to have a feeding tube during his chemotherapy and radiation but he couldn't bend over to hold the club with the feeding tube in his chest. Around that time, Callaway had invited me for a club-fitting and I explained that dad couldn't bend over when he tried to play golf.

"So they built clubs for him that were longer and had different lies so he could play with his feeding tube. He played through his chemotherapy and his radiation and I really think golf saved his life and the people at Callaway really did this for him."

Some people find golf stressful, others find it stress relieving. For Stone it's definitely the latter.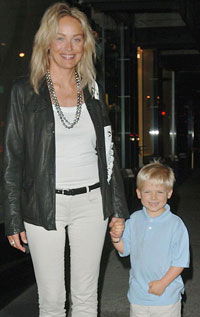 Sharon Stone, with son Roan (6), whom she's teaching to play golf.




"I use golf to alleviate stress. For example, last week I was watching the LPGA Tour on television. I was sad that day, struggling with something, so I decided to pop over to the par-3 course near my house. When I got there, I went out with my coach Karyn Dunphy for nine holes and it was wonderful. Golf has this way of inviting kindness."

Stone also revealed her love for golf fashion which she tends to wear much of the time.

"I don't want to look like a lesbian gym teacher when I play golf. Not that I have anything against lesbians, as we all know. Personally, I wear golf skirts a lot. I like a golf skirt that has pockets. I like the tight polo shirts from Ralph Lauren. They have a really good fit. And I wear saddle shoes from FootJoy because they're comfortable. Golf is such a great sport for women, and women are very marginalized in golf. The clothes are just another example.

"You can see it by how Michelle Wie is being treated. She's 17 years old, for Christ's sake! And people go, 'Yeah, yeah, but she hasn't won yet.' Well, guess what? She goes to high school full-time; she lives off the mainland; she's flying all over the friggin' world; she's doing a multi-million dollar Nike Golf deal and I happen to know just how much time those deals really take. If any of her critics could go to school full-time, keep up their grades and play world-class golf, I'd like to see it," says Stone, who's currently teaches her eldest son Roan, aged six, the fundamentals of golf.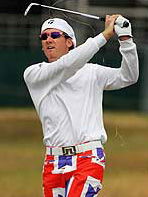 Poulter - now fashion guru for the girls, too!




Fashion footnote: Ryder Cup star Ian Poulter, known worldwide for his outrageous golf outfits, has been signed up to provide clothing for Great Britain and Ireland's Curtis Cup women's team at St Andrews in 2008.

Lesley Burn, the LGU's new chief executive felt it would serve as a huge fillip for youngsters striving to make the team.

"Getting it right for each of the players is going to be my biggest task," says Poulter "They have all got to feel good about themselves because that's half the battle when it comes to matchplay." He aims to have the women looking 'sporty, sexy and funky.'