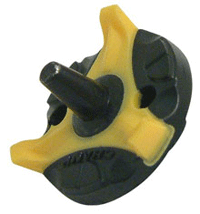 Side view of the Pro Stinger metal spike
Metal spikes in golf shoes are making a comeback. But while many of us will be grateful for the added stability they give us in wet, winter conditions, others will be pulling their hair out because of the damage they can do to greens.
Champ, one of the leading manufacturers of screw-in spikes for shoes is launching a new Pro Stinger metal spike designed, they say, 'to update metal spike technology into the 21st century.'
"We wanted to engineer a spike that would perform better than existing metal spikes, using the latest technology to provide the best possible traction," says Harris MacNeill, whose US company created the Champ brand and the successful Scorpion Stinger soft spike.
Until the flexible soft 'cleat' was introduced around five years ago the soft crunch of metal spiked shoes on tarmac and concrete was a familiar sound of 'golfer approaching' on many courses.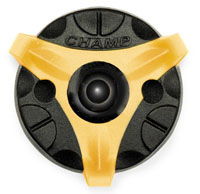 Metal spike surrounded by plastic stabilizers




The spider-like cleat, however, was proved to be far more forgiving than metal spikes for golfers walking an 18-hole round and less damaging to carefully tended greens. Metal spikes tended to tear the surface and leave the dreaded 'spike marks', which under the Rules of Golf 'may not be repaired on the line of a putt.'

You also need fewer of them on each shoe (often seven compared to 11 or 12) to retain similar traction.

Indeed many clubs introduced a 'softspike only' or 'softspike preferred' policy – such had been the volume of complaints from players following a golfer wearing metal spikes on to a green, and leaving a tell-tale trail of torn grass shoots.

However, a key downside in softspikes is that in damp conditions, they tend to clog with grass and mud – reducing their traction in the golf swing and often proving hazardous when walking on downslopes.

The makers of the new Pro Stinger claim that not only is their product user-friendly but green-friendly, too. With four 'traction points' featuring a single 6mm hardened steel tip surrounded by three sets of soft, flexible teeth and six recessed pods which prevent foot rotation.

Says MacNeill: "The case has been made for regulating courses to use plastic cleats only in the UK, but I find that highly irresponsible.

"Plastic cleats are known to get clogged and churn up greens, especially in winter conditions and we would argue in favour of a two-season approach, where green-friendly plastic cleats are worn in summer and metal ones in winter, when they do less damage and offer more stability and safety to golfers."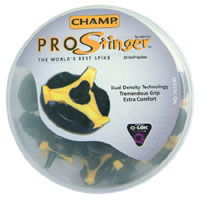 Pack comes complete with a wrench




He backs his remarks by claiming Champ metal spikes are becoming increasingly preferred on Tour with almost a third of players on the US PGA Tour and one-in-five in Europe choosing metal spikes.

Pro Stinger metal spikes are sold at most golf stores and pro shops in packs (£9.99 including a wrench) with a choice of three fastening systems - Q-Lok, Tri-Lok and the standard small thread - to fit most shoes, including FootJoy, adidas and Etonic.

What's your view in the soft spike v metal spike debate? Tell us on the forum.