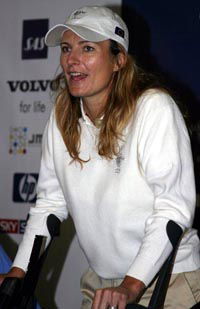 Nilsmark on crutches (Pic: Beth Cutler).
Despite being hampered by muscle spasms in her back, European captain, Catrin Nilsmark will mastermind her team's bid to reclaim the Solheim Cup from a specially adapted buggy.
The Swede, leading her team against the US for the first time on home soil at Barseback near Malmo, ruptured muscles in her back playing in Wales recently and suffered a recurrence during her recuperation. But she has already held team talks lying on her back and has progressed to press conferences while standing on crutches.
"I have been in agony but, thankfully, there was a dramatic improvement last night," she said yesterday, and heavy rain curtailed practice.
"There is a Solheim rule that I am allowed to hand over the captaincy role up to 30 minutes before the start of each session, and if I can't give 100% then my vice-captain, Alison Nicholas, will take over. But I'm confident I'll be OK."
With several tournaments already held on the Evian Tour on the part parkland and links composite course, local knowledge will be a vital factor. It demands long, straight hitting and cool putting under pressure on tricky greens.
Played over three days, The Solheim Cup consists of 28 matches - eight foursome matches on Friday, eight fourballs on Saturday and 12 singles on Sunday.
Europe
Catrin Nilsmark (Captain)
CA recurrence of a back problem has hampered her mobility as captain but she has adapted a buggy to keep in touch with play during practice and finalise her teams. The Swede has represented Europe five times and holed the winning putt at Dalmahoy in 1996. The glamorous 36-year-old from Gothenburg posted a perfect three-point record as one of Dale Reid's picks for the winning 2000 team. She's married to golf broadcaster Fredrik Nilsmark.
Alison Nicholas (Vice Captain)
The 1997 US Open champion brings valuable experience and character to the team. Aged 41, the pint-sized golfer from Birmingham has represented Europe six times and won 18 times around the world. Awarded the MBE.
Annika Sörenstam (Sweden)
Has dominated women's golf for the past two years. The Swede became the first woman ever to shoot 59 and has set over 50 scoring records on the LPGA Tour. She was also the first woman to compete on the PGA tour for nearly 50 years when she played the Colonial tournament in May this year in a barrage of publicity. Sörenstam has won 55 titles in ten seasons including a career grand slam. Married to her manager, nothing would mean more to Sörenstam to help Europe regain the Solheim Cup on home soil.
Sophie Gustafson (Sweden)
One of the most naturally talented ball strikers, she has won four times in the last year in Europe. A highly capable player on difficult courses, Sophie has power, finesse and determination plus a great sense of humour.
Laura Davies (England)
England's greatest ever woman golfer, she raises her game for team events like this. Davies has pioneered the growth of women's golf with her powerful, swashbuckling style. A glittering career spans 66 victories with four major championships and eight Solheim Cup appearances. A dynamic player who will want to contest every match.
Elisabeth Esterl (Germany)
Making her Solheim debut. The 27-year-old Bavarian, who comes from a small town appropriately called Dingolfingand, has claimed 22 top tens and five second places on Tour to be one of the most consistent performers. Tenacious, she's renowned for her accuracy and silky putting stroke.
Iben Tinning (Denmark)
It will almost be like playing at home for the 29-year-old from Copenhagen, who lives less than an hour across the bridge that separates Denmark from Sweden. Her strength is driving the ball prodigious distances and will be a key factor in fourball play.
Ana-Belen Sanchez (Spain)
Third Spaniard to represent Europe and earned her place with consistent performances on the Evian Tour. A protégé of Ryder Cup star Miguel Angel Jimenez from Malaga, she is noted for her big hitting and laid back personality.
Suzann Pettersen (Norway)
This powerful Norwegian with a fighting spirit is a birdie machine when she gets in the groove. One of her most memorable moments was recovering from dormie five down against Michelle Redman to grab a half point in last year's Solheim thriller in the US.
Carin Koch (Sweden)
Yet to be beaten in the Solheim Cup she has earned seven and a half points in eight matches including holing the winning putt at Loch Lomond in the 2000 Solheim Cup. An obvious captain's pick, despite balancing motherhood with her career. A deadly putter, she's a natural to team up with Sorenstam.
Patricia Meunier-Lebouc (France)
Patricia has typical French panache and flair but is four months pregnant with her first child. However, reckons she will be in perfect condition to cope with the rigours of her second appearance in the Cup. Aged 30 she won her first major championship at the Kraft Nabisco Championship in Marchand and was fifth at the Weetabix Open in August. She will want to make this a memorable occasion before taking maternity leave.
Catriona Matthew (Scotland)
After three years of frustration, finally got the birthday present she wanted when Nilsmark announced her as one of five wild card picks. The 34-year-old Scot has claimed five top tens on the LPGA in 2003 and has been consistently in the top five in the birdie rankings. Versatile and an excellent match player she represented GB&I in three Curtis Cups.
Mhairi McKay (Scotland)
Winner of the Australian Open in February, Mhairi (pronounced Vari) was disappointed not to win the US Open where she led after 36 holes. Played in two Curtis Cups and earned a scholarship to Stanford University as a contemporary of Tiger Woods. Has an uncanny ability to shoot low scores.
Janice Moodie (Scotland)
The comely Scot, who was married earlier this year, got the nod over Becky Morgan from Wales. Played key role in Europe's 2000 victory and was a feisty competitor in matchplay.
United States
Patty Sheehan (Captain)
Guided the Americans to victory on the final day last year with a strategic, well-planned line-up and turned her signature cartwheel on 18th green. Holder of 35 LPGA Tour victories, six of them majors. Her steely resolve and competitive nature has earned the respect of team-mates and opponents.
Jane Geddes (Assistant Captain)
A feisty New-Yorker who provides a boisterous rallying call for the US Team. Geddes has never lost a Solheim Cup. Won 11 LPGA Tour events and two majors.
Juli Inkster
Veteran mother-of–two, she recently proved she can win in Europe with her triumph at the Evian Masters in France – the 30th win of her career and on her 23rd wedding anniversary.
Rosie Jones
Her sixth Solheim Cup, the 43-year-old clinched the US Team's victory last year with her singles win over Karine Icher. Toughest competitor who's strong with her irons, fairway woods and putter.
Beth Daniel
Daniel often jokes that her age (46) always starts any story about her. Became the oldest player in history to win an LPGA tournament earlier this summer, capturing the Canadian Open – the 33rd win of her career. One of the few women golfers to use the broomhandle putter with any degree of success.
Michelle Redman
Hasn't won since 2000, but her name is never far from the leader board - a model of consistency, a useful asset in matchplay.
Laura Diaz
A rising star but one who has been hampered by an ankle injury. Diaz boasted three wins in the last Solheim Cup and her confident demeanour is clearly visible
Cristie Kerr
Has shed 50 pounds to get herself fighting fit for this encounter. Scored her first LPGA Tour win in 2002 and has amassed more than $2 million in earnings in her short career.
Meg Mallon
Playing in her seventh Solheim Cup her 13.5 points is only one half behind Dottie Pepper's US record. Known as a fair and respected competitor and will form the backbone of the US team.
Angela Stanford
One of the two rookies, she played her way on to the team in a stunning fortnight, winning the ShopRite event then finishing second after a playoff to Hilary Lunke in the US Open. Competed on the US Curtis Cup Team in 2000 and reached semis of British amateur the same year so knows the skills of matchplay.
Kelly Robbins
Competed on Solheim team since 1994. Cool under pressure, she clinched her place as a captain's selection with a share of second place in the US Open.
Wendy Ward
The Texan three-time LPGA winner halved her singles match with Annika Sorenstam in 2002 to turn the tide for the US Team. A gutsy competitor, she'll be looking for more success in Sweden.
Heather Bowie
Cup debutant after two consistent but unspectacular seasons. Only the third rookie to make a US Team but likely to combine with close pal Laura Diaz.
Kelli Kuehne
Patriotic and determined she's also the talented sister of Hank and Trip Kuehne, two of America's emerging stars. Made history as the first player to win both the US and British Amateur titles.