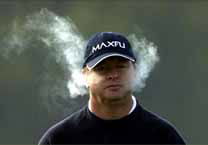 Woosnam – steaming with rage!.




What is it about golf that drives us to the extremes of both exhilaration and despair? It has us almost apoplectic with joy one second then steam coming out of our ears the next?

My son and I were discussing this recently while returning from a rare but ill-fated attempt to enjoy each others' company on the golf course. He four-putted the first, I hit my drive out of bounds on the second, he shanked his approach to the third green and we both made a pig's ear of the par-3 seventh. By the time we'd reached the 8th tee, matches in front were backed up. Pace of play in front was so slow, that golfers were sprawled about on tees all over the course

To add insult to injury, a 'jobs-worth' course marshal, instead of giving slow golfers ahead a sharp reminder and a yellow card, wanted to know why neither of us carried members' identity tags on our bags. It was the final straw and we strode back to the car park and eventually headed for the pub.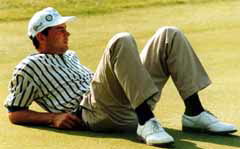 Slow play so frustrating.
Less passive mortals, I fear, might have suffered what is becoming popularly known as golf rage.
For most it's merely an expression of an expletive for a poor shot or a missed putt, or even the instant burying of the clubhead in the ground after a duffed chip.
Sadly for others it has cost them serious injury or even their lives. In Wisconsin a few years ago, Richard Stephens (51) was playing a relaxing round with his 12-year-old son, when he got angry over comments about slow play from a group behind them. He took exception and took a swing at 26-year-old Tony Osusky, who allegedly pushed and kicked his assailant to the ground. Mr Stephens, who had a heart condition, died from his injuries but Mr Osusky was cleared of criminal charges because he acted in self- defence.
In another incident in California, a player hit balls into the group ahead in frustration at what he reckoned was unnecessary dawdling before punching one of the players and running off. He was eventually fingered in a police line-up.
Last year, in a case of golf rage, a rare black swan waddled too close to the 17th hole at Donald Trump's exclusive Palm Beach, Florida course. A crazed golfer, having a bad game, clubbed the bird to death with his driver.
So what is it that makes us so angry with golf, perceived as such a sporting, gentlemanly game, played at a leisurely pace? Unlike most sports there is no bodily contact – other than a shake of the hands – so why the need to get overheated physically and mentally?
Some psychiatrists have words to describe the golf rage sensation – 'intermittent explosive disorder' - which they reckon can only be treated by anti-depressant drugs or Beta Blockers which reduce physical symptoms of aggressiven. Others call it "a cancer of the personality" and believe freedom from it can be achieved by lowering your expectations, rather than constantly thinking about what you should achieve.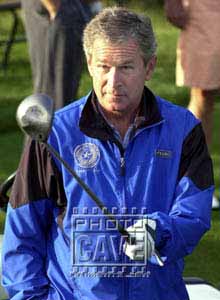 President Bush – short fuse.
While slow play is one of the biggest sources of frustration and impatience – the most popular blue touch paper for the time bombs inside most of us - psychologists consider frustration a unique type of choking or fear. Apparently it stays in your system for more than one shot and then we get frustrated or angry because we know what's going to happen next and we feel we have little control over the outcome. Some psychologists believe we merely get upset with our lack of perfection in front of other golfers. We want to look perfect and be admired. But we want it so much – the emotion engulfs us.
Pros claim that they employ psychologists like the Belgian, Jos Vanstiphout or American, Bob Rotella to retain their focus over four-foot putts while others might secretly need them to prevent doing themselves harm.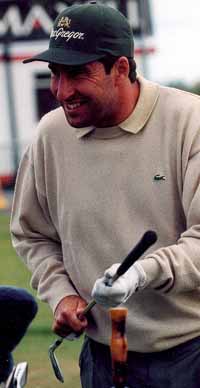 Olazabal – punched wall.
Mark Roe jammed his wedge into hard grown but it broke and knocked him out, while Jose Maria Olazabal became so enraged with his play in the 1999 U.S. Open, he punched the wall in his hotel room, breaking his hand. Volatile American Tour pro, Woody Austin, gave himself a very public bash on the head with his putter, while South African Hennie Otto threw his clubs into a river after a bad round in the 2001 South African Masters. You could almost see the steam merging from Ian Woosnam's ears when he discovered one club too many in his bag after taking the lead in the 2000 Open at Lytham.
However, golf rage for most of us, thankfully, is restricted to the occasional bit of club throwing and a minor tantrum.
We simply throw clubs to relieve the tension. But remember the advice of the legendary Tommy Bolt, that if you throw a club, always hurl it forward. It's even more embarrassing to have to go back to collect it!
Tell us your stories about golf rage on the forum. Has it happened to you, why and what was the outcome? Alternatively do you have advice for the rest of us to help curb it?